Thanksgiving Song and Circle Game
November 12th, 2015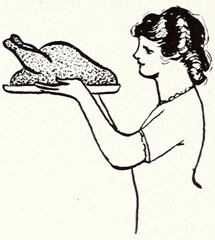 Thanksgiving is a time consider what we're thankful for in our lives. It's also a great time to teach children the art of gratitude. Studies have shown that people who practice gratitude are happier in life.
Here's a Circle Game for Thanksgiving that's all about gratitude. It's sung to the tune of "The Farmer in the Dell". Lori Furman Steeves created the game and she explains how to play it…
I made up a circle game to the tune of, The Farmer and the Dell, but first every one thinks of something they're thankful for; and then holding hands we move and sing, (for instance):

I'm thankful for my mom!
I'm thankful for my mom!
It's Thanksgiving and
I'm thankful for my mom!

Then we all sing with the other children and they add their choice.
Here's the midi tune to The Farmer in the Dell.
Many thanks to Lori Furman Steeves for sharing this game with us!
Mama Lisa
More Thanksgiving Songs, Poems, Rhymes and Recipes
Please share your favorite Thanksgiving Song in the comments below.
This article was posted on Thursday, November 12th, 2015 at 4:15 pm and is filed under American Kids Songs, Canada, Canadian Children's Songs, Children's Songs, Circle Games, Countries & Cultures, English, Games Around the World, Holiday Songs, Holidays Around the World, Languages, Thanksgiving, Thanksgiving Songs, The Farmer in the Dell, USA. You can follow any responses to this entry through the RSS 2.0 feed. You can skip to the end and leave a response. Pinging is currently not allowed.
Leave a Reply