Teaching Children about Giving at their Holiday Class Parties
November 19th, 2010
I've helped at many of my children's holiday class parties throughout the years.  Often, the kids make a holiday craft and then engorge themselves on sweets. I don't have a problem with the kids having some sweets at their parties, but it can get crazy.
This year my daughter's teacher is different.  She has the kids do something special for a local charity.  Then they might make a craft.  Then have a reasonable snack.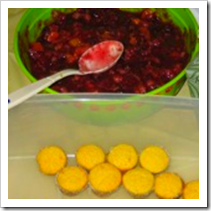 A light snack for the school party
For Halloween, the kids put together bags of candy and gave them to a local charity for children in need.
For Thanksgiving, the kids made cranberry sauce and put it in jars with the recipe attached.  It will go to people who are having a hard time this year affording a Thanksgiving dinner.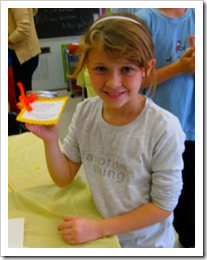 Student proudly displaying the jar of
Cranberry Sauce she made for charity
The kids also made a Thanksgiving craft for their parents and had corn muffins, fruit salad, cider and some of the cranberry sauce they had made.
Instead of spending the party time just eating and eating and eating, these children did something for someone else in need.  How great to show kids how to brighten someone else's holiday.
Happy Thanksgiving!
Mama Lisa
P.S. Thanks to Iris for the photos.
2 Responses to "Teaching Children about Giving at their Holiday Class Parties"
Iris Says:
November 22nd, 2010 at 5:49 pm

This is so great, Lisa. Thanks so much for posting!

Did you create this blog through Yola?

Happy Thanksgiving to you and your family!

Warmest Wishes,
Iris

Lisa Says:
November 22nd, 2010 at 6:00 pm

Glad you like it! My blog is a WordPress blog. My husband programmed it to look the way it looks. We're working on a redesign for the whole site. But it will take a while since there are so many subdivisions in it.

Happy Thanksgiving to you and yours too and thanks for sharing your photos!

Mama Lisa
Leave a Reply