Symbolic Japanese New Years Arrangements and Food
January 4th, 2011
In Japan, people traditionally make displays in their houses for special holidays.  The displays often include flowers, branches of trees and symbolic food.
My friend Ayako Egawa in Japan sent the photo below of a floral arrangement she made for the New Year.  She wrote, "The berries are 'senryo', lucky plants for the New Year in Japan.  The other red flowers are a kind of lily I think. I made my original arrangement to feel happy and fresh…."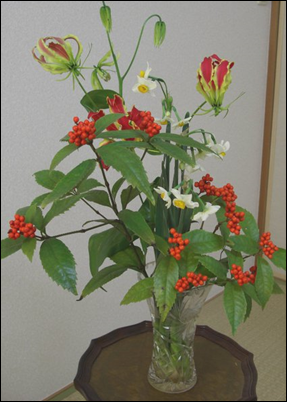 *****
"But my mom's style (below) is a traditional arrangement for the New Year with a pine tree branch."  Pine is a symbol of longevity…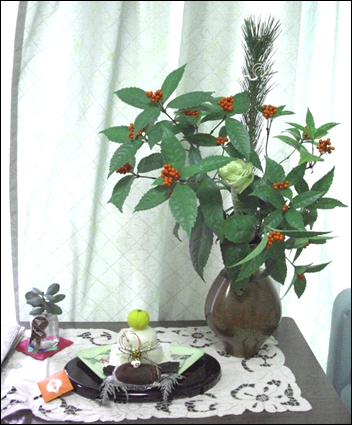 *****
Kagami-mochi is a symbolic food for the New Year.  Kagami-mochi are two rice cakes with an orange on top that are often part of the New Year arrangement, as you can see below….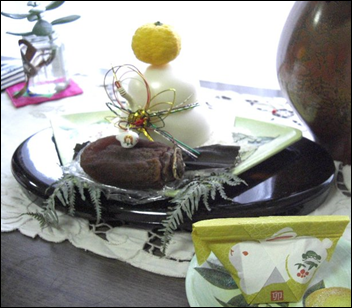 *****
"Kagami-mochi" translates literally as "Mirror Rice Cakes". A "Kagami" is a type of old round hand mirror that these cakes are thought to resemble.  "Mochi" refers to the white round rice cakes.  Here is an example of a Kagami…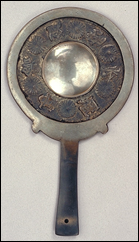 Kagami
Kagami-mochi have several symbolic meanings:  the yin and yang, the moon and sun, the human heart, and the departure of the old year and the coming of the new year. 
On top of the two mochi cakes is a daidai, a bitter Japanese orange.  Daidai also means "generation to generation" and symbolizes the continuance of the family line.
In the kagami-mochi pictured in the display above, you can also see a sheet of konbu (kelp) and fern leaves which are traditionally part of the arrangement.
The kagami-mochi is eaten on January 11th in a ceremony called Kagami Biraki, literally "opening the mirror".  The mochi is hammered into pieces.  It must be hammered or broken with the hand and not cut with a knife.  Cutting it with a knife would symbolize the breaking of ties.  Once the mochi is broken, it's cooked in a soup and eaten. 
Kagami Biraki is also performed at weddings and other important ceremonies for good fortune.  At those events, the mochi is hammered into pieces on top of a barrel of sake.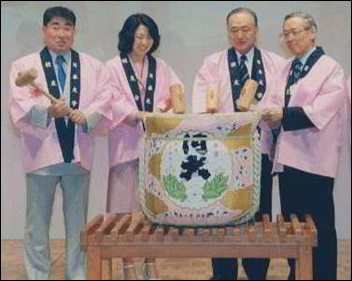 *****
Ayako mentioned that 2011 is the year of the Rabbit in Japan.  That's why you see the rabbit in the display.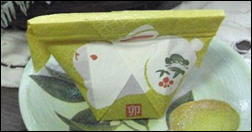 *****
These symbolic items all add up to a wish for a lucky, healthy new year.
Many thanks to Ayako and her Mom for sharing these photos with us!
May you all have good fortune this upcoming year!
Mama Lisa
Photos of the mirror and the Kagami Biraki ceremony are linked to their original sources.
This article was posted on Tuesday, January 4th, 2011 at 1:03 pm and is filed under Arts and Crafts, Countries & Cultures, Cuisine, Customs and Traditions, Flower Arranging, Holidays Around the World, Japan, Japan, Japanese, Japanese Cuisine, Languages, New Years, Recipes of the World, Symbolic Displays, Symbolic Foods for the New Year, Traveling, Weddings, Weddings. You can follow any responses to this entry through the RSS 2.0 feed. You can skip to the end and leave a response. Pinging is currently not allowed.
One Response to "Symbolic Japanese New Years Arrangements and Food"
Lisa Yannucci Says:
June 9th, 2011 at 9:27 am

Ayako wrote: "Habotan 葉牡丹 is a lucky flower in Japan especially for the New Year." It's a type of cabbage or kale.
Leave a Reply