Two Songs of the Arapaho Tribe
February 7th, 2015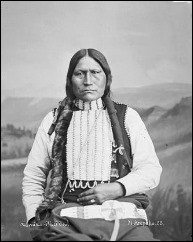 We've added two songs from the Arapaho tribe to Mama Lisa's World.  The Arapaho is a Native American tribe.  Their territory once spanned from the Big Horn Mountains in Wyoming to the Arkansas River. The Arapaho language is part of the Algonquian language family.
Click below to learn two Arapaho songs…
Nû'nanû'naatani'na hu'hu' – The Crow Is Circling Above Me (with an mp3 recording)
Ninaä'niahu'na – We Circle Around (with a YouTube) – This song is also sung in English
Enjoy!
Mama Lisa
Image: Chief Black Coal (1882), one of the most influential Arapaho chiefs of his time.
Leave a Reply