RIP Eric Hill–Author of the Spot the Dog Books and Inventor of "Lift-the Flap" Books
June 12th, 2014
Eric Hill, author of the Spot the Dog children's books, passed away this week at 86. 
Hill created Spot for his young son in 1976.  In 1980, he created the first lift-the-flap book to ever exist called "Where's Spot?".  He came up with the "lift-the-flap" design after he had seen it on advertising flyers.  What an innovation for children's books!
I remember reading "Where's Spot" with my son Calvin when he was little.  He loved it!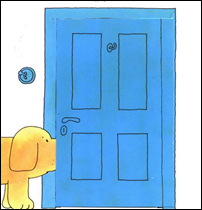 Spot the Dog books have such a joyful simplicity, they'll be enjoyed for generations to come.
RIP Eric Hill
This article was posted on Thursday, June 12th, 2014 at 12:25 pm and is filed under Books & Stories, Countries & Cultures, England, English, Eric Hill, Languages, Spot the Dog, USA. You can follow any responses to this entry through the RSS 2.0 feed. You can leave a response, or trackback from your own site.
One Response to "RIP Eric Hill–Author of the Spot the Dog Books and Inventor of "Lift-the Flap" Books"
Jason Says:
June 13th, 2014 at 10:55 pm

My kids loved those books when they were young.
Leave a Reply