Register your Día Program today!
February 22nd, 2014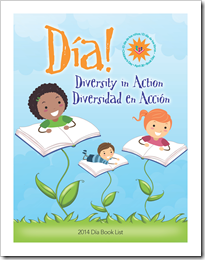 Día is a nationally recognized initiative that emphasizes the importance of literacy for all children from all backgrounds.
The Día! Diversity in Action 2014 Celebration is fast approaching, have you registered your program yet?  Register your Día Celebration in the 2013 Día National Program Registry to build a national database that showcases all types and sizes of Día programming and receive free bookmarks, stickers, and buttons!
Visit the Día website at http://dia.ala.org to learn more about how you can celebrate diversity and connect children to a world of learning through books, stores and libraries.  Explore and download the free bi-lingual Día booklist, book club lesson plans, activity sheets, poster and resource guide to help make your program a success!
Día is a daily commitment to linking children and their families to diverse books, languages and cultures.  The celebration is intended to be year-round, culminating on April 30th.
Leave a Reply