Recording onto the Computer
December 7th, 2006
From time to time people ask me how one goes about recording audio onto the computer.
The first thing you need to record is a microphone. As far as I know, most computers aren't made with one built in.
Before buying a microphone, you need to figure out where you can plug it into your computer. It sounds so basic – and it might be – but you'll need that information to know what type of plug your microphone should have (USB, standard microphone jack, etc.).
If you have a free USB port, that's the best choice. A USB port will give you a digital recording, which makes it easier to produce a clean sound.
The photo below shows what a USB port looks like – it's the dark one to the right. The red port on the left is a standard microphone port.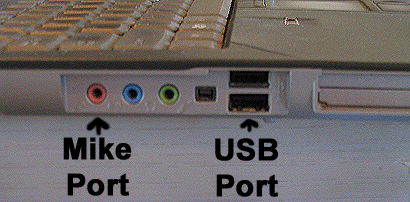 Here's what some microphone jacks and plugs look like. (The two on the left are USB jacks.)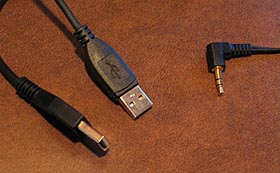 (You should be aware that USB microphones will only work on computers – they can't be plugged into cassette decks and things like that.)
The microphone I have stands on the tabletop and plugs into the USB port. It costs US $24.00. It's called Logitech USB Desktop Microphone. (It's the top microphone in the photo below.)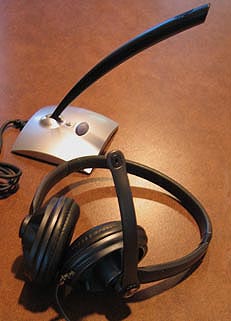 My husband makes longer recordings. He's produced podcasts of The Wizard of Oz among other things. So he likes a microphone headset that is worn on the head. It's called Logitech Premium USB Headset 350. It's now being sold for US $25 to $35.00. (It's the lower headphone set in the photo above.)
Once you have a microphone, you'll need software to record into.
My husband and I usually use a program called Sony Soundforge, which costs about US $52.00 and gives many professional level mixing tools. The truth is, we usually don't use any of that power!
Yesterday, Paul DeShaw wrote to me about Audacity software. It's a Free Audio Editor and Recorder. Paul wrote "There is simple software available for all operating systems for recording. Audacity is one such program, freely available at http://audacity.sourceforge.net/."

I haven't tried Audacity yet. But it looks like it will take care of basic recording operations and it looks easy to use.
If anyone would like to share any other information about recording onto the computer and/or recording devices, please feel free to comment below.
-Lisa
12 Responses to "Recording onto the Computer"
Leave a Reply