Recipe for Zucchini Fritters
July 9th, 2015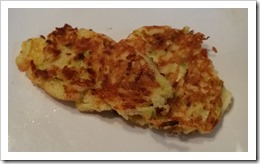 Wondering what to do with all that summer zucchini?  Try Zucchini Fritters!  Both my husband and daughter loved them!
The beauty of this recipe is that all you need is zucchini, cheddar cheese and some basic ingredients you probably have already.  It's quick to make too.
You can grate the zucchini in a food processor to simplify things or else use a grater. Here's how to make them…

Recipe for Zucchini Fritters
Ingredients
1/2 cup Flour
1/4 t. Baking Powder
2 cups peeled, grated zucchini
2 Eggs, beaten
1/2 cup Parmesan Cheese
1/2 cup shredded Cheddar Cheese
Salt & Pepper to Taste 
Vegetable Oil

1. In a bowl, mix flour and baking powder.
3. Add zucchini, eggs, parmesan, cheddar cheese, and salt and pepper.  Mix well
4. Put enough oil in pan to line the bottom.  Heat on medium. Drop heaping tablespoons of mixture into pan making separate patties. Cook on each side until golden brown.
5. Place cooked patties on a plate lined with paper towels.
6. Cook remaining mixture following step 4.
Bon appetit!
Mama Lisa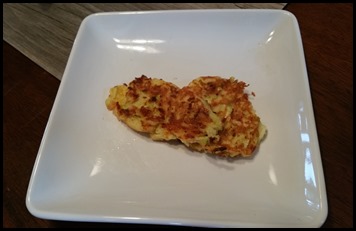 Leave a Reply