Recipe for Tortilla de patatas from Spain
June 19th, 2015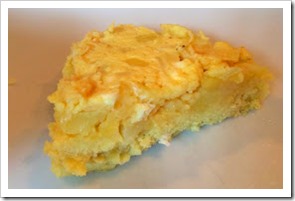 Monique grew up eating Tortilla de patatas (potato omelet).  The recipe was passed down from her grandma to her mother.
Tortilla de patatas is a type of potato omelet from Spain.  Tortilla in Spain is different from tortilla in Mexico and South America (where it's a thin flatbread). Tortilla originally meant small cake.  Tortilla de patatas is like an omelet in the shape of a cake.  The dish is very popular in Spain.  There are regional variations.  The most common is simply made with potatoes, eggs and sometimes onion.
I made it with onion to give it more flavor.  It was yummy!  Here's the recipe…
(Note: If you want to change the amount, use a ratio of approximately 2 eggs per potato. Choose the type of potato in your area that's used for frying.  I used gold potatoes.)
Recipe for Tortilla de Patatas
Ingredients
6 Potatoes
10 Eggs
1+ Onion (optional)
Extra Light Olive Oil
Salt
1. Peel and thinly slice the potatoes.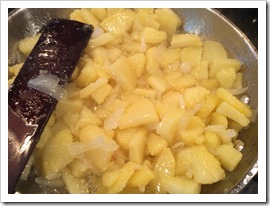 2. Slice the onion.
3. Heat the olive oil (about 1/2 inch) in a frying pan. Fry the onions and potato slices with a pinch or two of salt.  Cook on high for about 5 minutes, stirring often.  Then turn heat down to medium and cover it.  Stir occasionally. It will take about 15 – 20 minutes to cook through.
4. Meanwhile, beat the eggs in a bowl with a pinch or two of salt.
5. Once the potatoes are soft drain them from the oil and add them to the eggs and mix.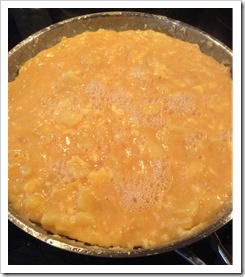 Let the mixture sit for 5 -10 minutes.
6. Put oil in a frying pan to coat the bottom and heat up the pan.  Add the egg mixture. (The frying pan shouldn't be too large because you want the omelet to be thick.)
7. Cook on medium heat, shaking the pan from time to time to get the inside cooked.  You can also break up the top of the egg a bit to help the inside cook. You want the sides to firm up too.
8. Once it's firm enough and not too runny, gently loosen the omelet with a spatula from the sides and bottom of the pan. Put a large plate over the pan and turn over.  You want the omelet to be upside-down on the plate.
9. Slide the omelet back into the pan from the plate (it will still be upside-down).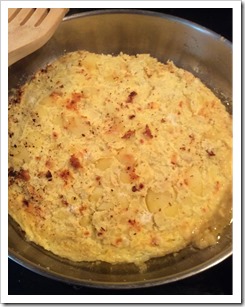 10. Let it cook to firm up the bottom.
11. Slide onto a plate.  Cut and serve!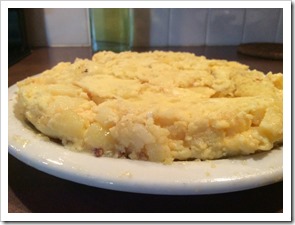 Here's a video demonstration of how to cook Tortilla de patatas…
Enjoy!
Mama Lisa
Thanks to Monique Palomares for pointing out this dish.  Monique works with me on the Spanish and French versions of Mama Lisa's World.
One Response to "Recipe for Tortilla de patatas from Spain"
plasterers bristol Says:
August 12th, 2015 at 6:24 am

Mmm this is yummy. Top marks for this recipe. Thanks for sharing.

Simon
Leave a Reply