Recipe for Super Easy Delicious American Piggies in the Blanket
December 24th, 2006
If you're still looking for an appetizer for a party, here's a simple one –at least for all of you Americans out there. It's a recipe for Piggies in the Blanket made with 2 ingredients you can get in any American food store. (I'd love to know if you can get these ingredients elsewhere.)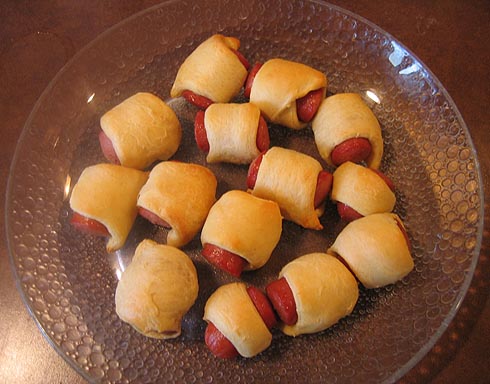 All you need are one package of your favorite frankfurters and one roll of Pillsbury Crescents (they're normally used to make croissants).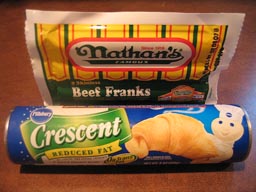 Preheat oven to 375 F.
Cut the hotdogs in three.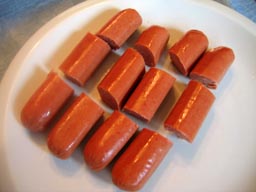 Then unroll the crescent dough. They're pre-made in individual triangles. Cut a triangle in three, like in the photo below.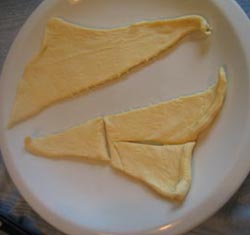 Roll a hotdog piece in one of the cut out triangles, like in the photo below.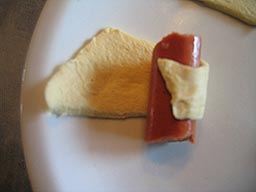 Then place on a cookie sheet, seam side down. Leave about an inch on the tray in between each piggy in the blanket.
Repeat until all of the hotdogs and crescent dough has been used.
Heat in the oven until golden brown, about 10 – 12 minutes. (If you're making them in advance to reheat later, cook them a little less the first time, till just golden. When you're ready, reheat in a warm oven, taking care not to burn the bottom.) Serve with mustard and/or ketchup, but they're delicious plain.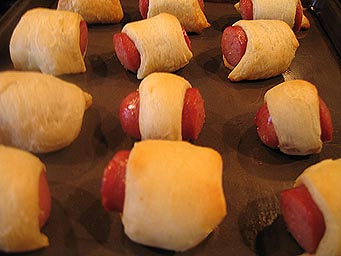 I'd recommend at least doubling the recipe for a party, as these get eaten up very quickly.
Good eatin'!
-Lisa
12 Responses to "Recipe for Super Easy Delicious American Piggies in the Blanket"
Leave a Reply