Recipe for Red Velvet Cake with Beets
January 19th, 2012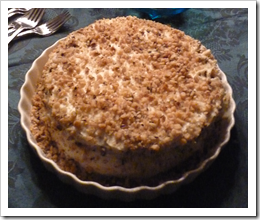 There are different theories about where the American Red Velvet Cake is originally from, ranging from the South (perhaps the time of the Civil War?) to a creation of the Waldorf Astoria Hotel in New York. No one seems to really know for sure! 
What's certain is that this cake feels special, and in fact, it's served for a variety of important occasions in the US… Christmas, weddings, Valentine's Day and the 4th of July.
I recently heard that this cake was traditionally made with beets in the South instead of food coloring.  This idea appealed to me since I try not to feed my family man-made food dye.  Red Velvet Cake made with beets is all natural. 
What gives this cake its red coloring is the beets, the chocolate, an acidic ingredient like lemon juice, and baking powder (not baking soda).  This cake is like a science experiment where you need to use just the right combination of ingredients to naturally create its vivid red color.
My recipe here will produce a cake that's very moist and rich in flavor… you'll want to serve thinner slices than normal because it's very filling – like a carrot cake.
Just look at that color… created naturally I'm proud to say!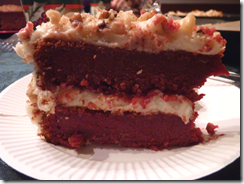 Ingredients
2 cups cooked Pureed Beets (about 4 beets)
1/4 cup + 2 T. Freshly Squeezed Lemon Juice 
1 t. Pure Vanilla Extract
2 sticks Butter (softened)
1 eight ounce block of Cream Cheese
3 Eggs
2 cups Flour
2 1/2 cups of Sugar
1/4 cup Cocoa Powder
1 1/2 t. Baking Powder
1/2 t. Salt
Icing Ingredients

2 eight ounce blocks of Cream Cheese
8 oz. Mascarpone
2 sticks Butter (softened)
2 t. Vanilla Extract
4 1/2 cups Confectioners Sugar (sifted)
Dash or two of Salt
2 t. Milk
1 3/4 cups chopped Walnuts (optional)

Preheat the oven to 350 F.
1. Butter and then flour two round 8 inch cake pans.
2. Mixed the cooked pureed beets with the lemon juice and vanilla.
3. Add in the butter and cream cheese.  Blend well.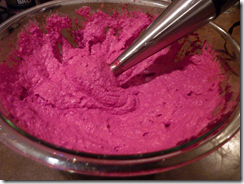 4.  Blend in the eggs and 1/2 cup of the sugar.
5.  Put aside 1 cup of the beet mixture.
6.  In a separate bowl mix flour, 2 cups sugar, cocoa powder, baking powder and salt.
7.  Mix in the main portion of the beet mixture with the flour.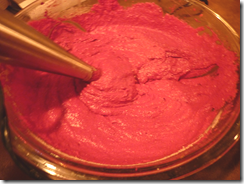 8.  Fold the last cup of beet mixture into the batter.
9.  Pour batter evenly into the 2 cake pans.
10.  Cook for about 35 minutes.  Cake is done when a toothpick comes out clean.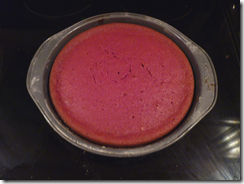 11.  Remove cake from oven. Take out of pans when warm and place on separate plates.  Let cool.
Icing
1.  Blend together all ingredients (except for the walnuts) until smooth.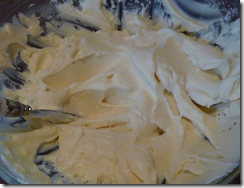 2. Put icing on 1 layer of cake.Then put the 2nd layer of cake on top of the 1st layer.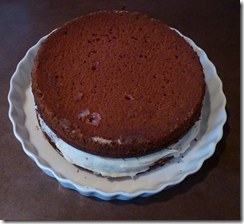 3.  Ice the whole cake.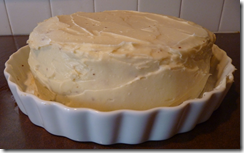 4. Then sprinkle the walnuts all over the cake if desired.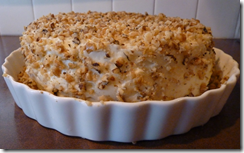 Even my 10 year old daughter liked this cake, and she doesn't like beets! 
Enjoy!
Mama Lisa
This article was posted on Thursday, January 19th, 2012 at 1:20 pm and is filed under Christmas, Desserts, Food & Nutrition, Food Coloring, Fourth of July, Holiday Recipes, Holidays Around the World, Making Natural Food Coloring, Recipes of the World, Red Velvet Cake, Valentine's Day, Weddings. You can follow any responses to this entry through the RSS 2.0 feed. You can skip to the end and leave a response. Pinging is currently not allowed.
6 Responses to "Recipe for Red Velvet Cake with Beets"
Leave a Reply