Recipe for Pebernodder Cookies plus a Kids Game called Mouse
December 11th, 2006
Pfeffernüsse is a traditional German Christmas cookie. Pfeffernüsse literally translates into English as pepper-nut. That's because most traditional recipes for these cookies are spicy and call for pepper. I believe the "nut" part is because they were traditionally shaped like little balls or nuts. That's where you get peppernut.
These cookies are also traditional at Christmastime in Denmark. In Danish they're called pebernødder. They can also be found in English speaking countries. In the U.S. they're called pfeffernuesse.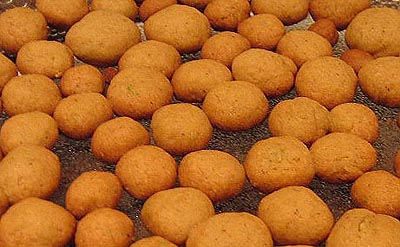 Laurel Skelton was nice enough to send me a recipe. Here's what she wrote:
I have several recipes, but some call for baking soda, and produce a fluffier cookie – NOT what I consider classic Pebernodder. Following is the recipe that produces the smallest, nut-like cookie, but it doesn't call for much spice. So I make the cookies with a combination of the recipes I have, adding spices from the others to this basic recipe:
PEBERNODDER (Peppernuts)

2 1/2 cups (325 grams) Flour
1 cup (200 grams) Sugar
1 cup (225 grams) Butter
2 Eggs
1 teaspoon Cardamom
1 teaspoon Cinnamon
1/4 teaspoon White Pepper
Grated Lemon Rind

Take out butter early to soften.

Sift dry ingredients into large mixing bowl. Add butter and eggs and grated lemon rind. Mix well. Kneed with hands until dough is smooth.

Let rest about 1 hour. Then roll out into ropes the thickness of a pencil, and cut into pieces about the size of a pea. Bake on a greased cookie sheet at 325 Fahrenheit (165°C) for about 10 to 12 minutes until golden brown.

(I omit the lemon rind, add 1 Tablespoon of Molasses and use the following spices: 4 t. Cardamom, 2 t. White Pepper, 2 1/2 t. Ginger, 3/4 t. Cloves.)
Laurel had asked me about a game that kids play with pebernødder. I posted her question on my blog. The first person to respond said that pebernødder were used like tokens for payment when playing games.
More recently, we got a response by Karin Parnis, who used to play a game called Mouse (Mus in Danish), with these cookies. Here's what Karin wrote:
I used to play a game called "mus" or "mouse" with my grandmother. You must have at least 3 people to play. You line up 10 or so pebbernodder on the table and point one of them out while the person who is "it" closes his eyes. He can then eat the pebbernodder one by one until he touches the "mouse" and the other players shout "MOUSE". You keep taking turns to be "it" until you're sick of eating pebbernodder or until there are none left!
Many thanks to Karin and Laurel for writing!
If anyone would like to share other holiday recipes or traditions, please feel free to comment below or email me.
Lisa
UPDATE: I made these cookies both ways. I found both to be very tasty. My children liked the 1st recipe best, but my husband preferred the spicier ones.
*****
The pfeffernuesse that you see in the US are often made with baking soda and even baking powder. They're also made into 3/4″ balls before baking – so that they're a larger, fluffier cookie. When they cool off a little, they're coated with powdered sugar.
The version above, especially the first version of the recipe, is pretty mild. They're sort of like a slightly spicy tasting, crunchy, sugar cookie. Yum-my!
In the second version above, you taste white pepper mixed with sweet cookie.
You can tell in the photo above that most of mine came out a little bigger than they were supposed to. My kids helped roll them – so they were all sorts of sizes. But it was a great project to do with kids. For my 5 year old daughter, it was like playing with play dough. It was fun for her, yet she was a big help!
This article was posted on Monday, December 11th, 2006 at 9:16 pm and is filed under Christmas, Christmas Cookies, Cookies, Countries & Cultures, Danish, Denmark, Desserts, English, Games Around the World, German, Germany, Holidays Around the World, Languages, Pebernødder, Pebernodder Cookie Game, Pfeffernüsse, Pfeffernuesse, Recipes of the World. You can follow any responses to this entry through the RSS 2.0 feed. You can skip to the end and leave a response. Pinging is currently not allowed.
10 Responses to "Recipe for Pebernodder Cookies plus a Kids Game called Mouse"
Leave a Reply