Recipe for Creamy Cold Cucumber Soup with Raspberry Sherbet
May 27th, 2014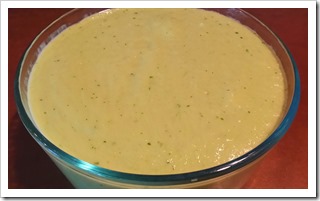 One summer, my husband and I visited Montreal where we had an amazing cucumber soup with a spoonful of raspberry sherbet in the middle.  I've been making this soup every summer since then.  It's a wonderful meal on a hot day.
Recipe for Creamy Cold Cucumber Soup with Raspberry Sherbet
Ingredients
6 Small Cucumbers (peeled, seeded and chopped into large pieces – reserve 1/3 of a cucumber diced)
1 Avocado (peeled and pitted)
1/4 cup Fresh Cilantro Leaves
1 1/4 cup Plain Lowfat Yogurt
1 cup Water
1 Small Lime (squeezed)
Salt and Pepper to Taste
Raspberry Gelato or Sherbet (if desired)
Put cucumbers, avocado, cilantro leaves, yogurt, water and lime juice in a food processor.  Puree.  Add salt and pepper to taste.  Add the reserved cucumber and stir.  Refrigerate for at least an hour.
Serve soup in bowls with a dollop of Raspberry Sherbet or Gelato if desired.
Bon appetit!
Mama Lisa
Leave a Reply