Recipe for Chocolate Dipped Coconut Macaroons
February 10th, 2016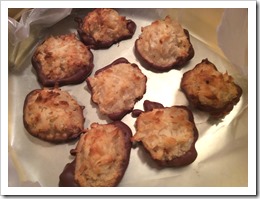 Coconut Macaroons are extremely easy to make! They're a perfect little treat for holidays like Valentine's Day. Dipping them in chocolate makes them extra special!
Here's the recipe…
Recipe for Chocolate Dipped Coconut Macaroons
Ingredients
14 ounce bag of Sweetened Shredded Coconut
14 ounce can of Sweetened Condensed Milk
1 Tablespoon Pure Vanilla Extract
2 Egg Whites
1/4 teaspoon Kosher Salt
5 ounces Good Quality Chocolate Chips (optional)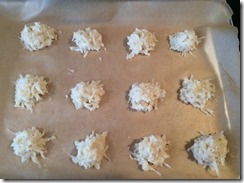 Makes about 24 Cookies
Preheat oven to 325 F.
1. In a large bowl, mix together the shredded coconut, condensed milk and vanilla extract.
2. Put the egg whites and salt in a separate bowl. Blend with an electric mixer on medium speed until stiff peaks form.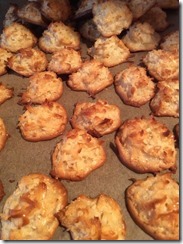 3. Gently fold the egg white mixture into the coconut mixture.
4. Using a melon baller or a spoon, place the mixture in about 1 1/2 – 2" dollops on cookie sheets lined with parchment paper. Place them about 1 inch apart.
5. Cook for 20 – 25 minutes until golden brown. Let cool. They're delicious like this, or you can continue to step 6 and dip them in chocolate.
6. Place the chocolate chips in a microwave safe bowl. Cook for 30 seconds. Then stir the mixture. Cook 30 seconds more and stir. It should be smooth and fully melted. If needed you can cook for another 30 seconds.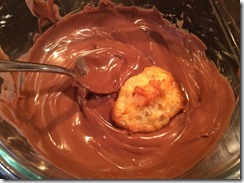 7. Dip the bottom of the macaroons into the melted chocolate and place on the lined cookie sheets. Place in the freezer for 5 – 10 minutes until set.
8. Store in a tin.
Enjoy!
Mama Lisa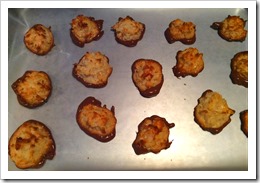 This article was posted on Wednesday, February 10th, 2016 at 4:39 pm and is filed under Candy, Cookies, Countries & Cultures, Desserts, Holidays Around the World, Recipe for Coconut Macaroons, Recipes of the World, USA, Valentine's Day. You can follow any responses to this entry through the RSS 2.0 feed. You can skip to the end and leave a response. Pinging is currently not allowed.
2 Responses to "Recipe for Chocolate Dipped Coconut Macaroons"
Jeanette Biddle Says:
April 9th, 2016 at 2:07 pm

Hello,I love your site! I was investigating the meaning of a son I used to sing as a youngster when I lived in Hawaii–1951/53. I found it here– The Telephone Song. Do you know of a chant sung during jump rope with the lyrics: Red white and blue stars over you mama said papa said you (?? Pa kay???) I've wondered what the few words were. We did speak pidgin so . . . .

Lisa Says:
April 9th, 2016 at 2:36 pm

The normal rhyme goes:

"Red, white and blue, stars over you.
Mama said and papa said, I love you."

The version from Hawaii goes:

"Red, white and blue, stars over you.
Mama said, papa said, you pake."

"Pake" is a pidgin word for a Chinese person, but it also means stingy – it doesn't seem to be a nice word to use.
Leave a Reply