Recipe for Cashew Pesto
January 8th, 2016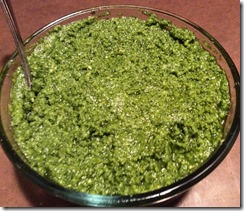 Here's my son Calvin's delicious take on pesto. Serve over tortellini or your favorite pasta.
Recipe for Cashew Pesto
Ingredients
2 cups Basil
3 cloves chopped Garlic
1/2 cup Parmesan Cheese
1/2 cup Cashews
1/2 cup Olive Oil
Salt and Pepper to Taste

1. Place all ingredients in a food processor with a standard blade.
[A blender can be used if you don't have a food processor.]
2. Pulse the ingredients until you have a consistent texture and it's well-blended.
3. If the pesto is too thick for you, mix in a little of the pasta water.
Enjoy!
Mama Lisa
Leave a Reply