Recipe for Butternut Squash Gnocchi
February 5th, 2020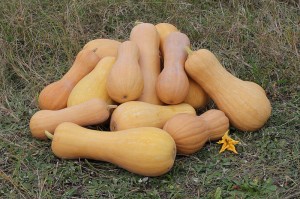 Butternut Squash Gnocchi are easy to make and it's more nutritious than regular gnocchi (which I also love!). I use the lazy method. Instead of rolling out the dough, I simply drop teaspoonsful of the dough into boiling water like you would make spaetzles. I make it either with a butter sage sauce or with a blue cheese sauce. You can make this with many types of smooth squash (but not spaghetti squash).
Recipe for Butternut Squash Gnocchi
Ingredients
1 Butternut Squash
These quantities below are based on a cooked and peeled butternut squash (without seeds) after being pureed, weighing 21 oz (600 g.). You can adjust the amount of flour depending on the size of your squash. 
1 Egg
3/4 Cup Grated Parmesan Cheese (~100 g.)
1 1/2 Cup All-Purpose Flour (250 g.)
Optional Ingredients for Sage Butter Sauce
4 – 5 T. Butter (~50 g.)
10 Sage Leaves (cleaned and dried off)
Optional Ingredients for Blue Cheese Sauce
1 cup Cream
1/2 pound Blue Cheese or Gorgonzola (225 g.)
Note: When I made this with a 2 pound squash I used 2 eggs and 3 cups of flour. 
Directions
Preheat oven to 375 F (190 C)
1. Clean off outside of squash. Prick it with a fork on each side of the squash. Place on a cookie sheet lined with aluminum foil. Place in oven and cook for 20 minutes. Turn the squash and cook for another 20 minutes. Keep doing this until the squash is fully soft when pricked with a fork.
2. Once the squash is cooked, cut it in half longwise. Scoop out and discard the seeds and "guts".
3. Meanwhile put up a pot of water to boil.
4. Put the squash in a food processor and puree it (you can also use a blender).
5. Add the egg and puree it.
6. Add the parmesan cheese and puree.
7. Slowly add the flour until the mixture is the consistency of dough.
8. Drop the dough by the teaspoonful into the boiling water. Leave it in until it's cooked through, for about 5 minutes. You can taste for doneness.
9. Remove the gnocchi with a slotted spoon and put in a colander to drain. Then place in a covered dish to keep it warm while you cook the rest of the dough.
10. Keep cooking this way until all of the dough has been cooked.
You can serve the gnocchi with butter and parmesan. Otherwise, it's delicious with sage butter or blue cheese sauce.
Directions for Sage Butter
Melt butter in a pan and cook with fresh sage on low heat until it's slightly browned. Serve with gnocchi.
Directions for Blue Cheese Sauce
Heat up the heavy cream. Meanwhile cut up the cheese into cubes. Then add the blue cheese to the cream and stir until melted. You can either mix it with the gnocchi in advance of let people serve it themselves.
Here's a pic of traditional gnocchi to give an indication of the size of the "dumplings"…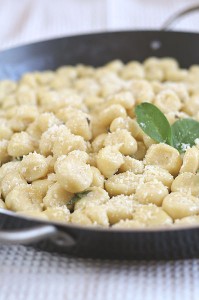 Enjoy!
Mama Lisa
Image of gnocchi: Photo by Paoletta S., CC 2.0.
Leave a Reply