Recipe for Broccoli and Pasta
January 29th, 2016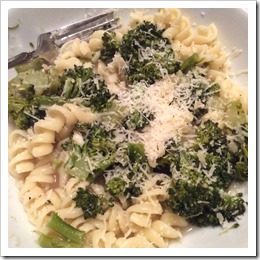 This recipe comes from my Italian grandmother, who taught it to my mother, who taught it to me. I changed the recipe a little to make it healthier, using less oil and more broth.  Since my family loves the broth, I use a lot.  I also use a lot of broccoli since they complain if I only use one head lol. You can adjust the recipe to suit your family.
Recipe for Broccoli and Pasta
Ingredients
3 T. Olive Oil
3 Cloves of Garlic
1 – 2 Heads of Broccoli
2 – 4 cups Chicken Broth
1 Bag/Box of Pasta
Salt & Pepper
Parmesan Cheese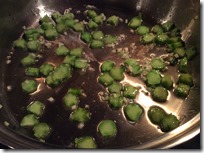 1. Finely chop the garlic.
2. Cut off the hard ends of the broccoli.  Chop the broccoli into bite-sized pieces. If any of the stem is edible (usually if it's not too hard) you can peel it and cut it into small pieces.
3. Bring a pot of water to boil for the pasta.
4. Meanwhile, put the olive oil in a large skillet on medium heat. Add the garlic and the pieces of the stem (if you're using them). Sauté until the garlic is golden. Don't burn it!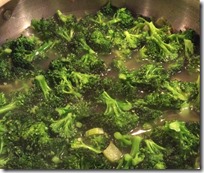 5. Add the rest of the broccoli and cook for 10 minutes, stirring often.
6. Once the water is boiling (from step 3), add the pasta and cook following the directions on the package. Meanwhile, continue to step 7.
7. Add the broth to the broccoli and garlic mixture. Add salt and pepper to taste. Bring to a simmer and continue cooking until the broccoli is soft when pricked with a fork. Lower heat. (You can cook the broccoli to the doneness that you prefer.)
8. Drain the cooked pasta.
9. Put pasta in your bowls and top with the broccoli and some broth.
10. Top with parmesan cheese to taste.
Enjoy! Mangia!
Mama Lisa
This article was posted on Friday, January 29th, 2016 at 5:00 pm and is filed under Broccoli and Pasta, Countries & Cultures, Italian American, Italian American Cuisine, Italian Cuisine, Italy, Main Course, Recipes of the World, USA. You can follow any responses to this entry through the RSS 2.0 feed. You can skip to the end and leave a response. Pinging is currently not allowed.
2 Responses to "Recipe for Broccoli and Pasta"
Kaitie Says:
February 14th, 2016 at 5:35 pm

I tried this recipe and really enjoyed it next time I will add just a little less broth

Lisa Says:
February 15th, 2016 at 4:29 pm

Thanks for the feedback Kaitie!
Leave a Reply