Recipe for Ashe Mast – A White Persian Stew
July 18th, 2007
My neighbor brought me a sampling of a very popular Persian soup called Ashe Mast. I found it to be interesting and different. It's the type of food my family enjoys, as they like chick peas, beans, rice and yogurt. I'll definitely be adding it to the repertoire of meals I make.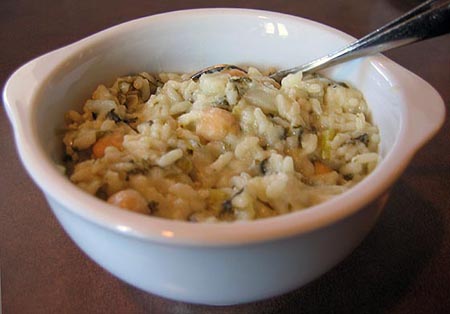 Ashe means soup and Mast means yogurt. So Ashe Mast literally translates to Yogurt Soup.
Here's the recipe! (You can add or subtract yogurt, depending on whether you want more of a soup, or a stew.)
Recipe for Ashe Mast

1 bunch Parsley
1 bunch Cilantro
1 medium Onion
2 bunches of Scallions
3 medium Potatoes
1/2 cup Rice
1 1/2 cup Water
1 can Garbanzo Beans (16 oz.)
1 can White Beans (16 oz.)
Salt and Pepper
Plain Whole Milk Yogurt (8-16 oz.)

Wash the parsley and cilantro, take out the stems and coarsely chop the leaves. Wash and chop the onion and scallions and cube the potatoes.

Sauté the onion in a little oil until soft. Add water and rice and stir. Bring to a boil. Cover, lower heat and cook for 15 minutes. Add the greens, potatoes and beans. Add salt and pepper to taste. Cook slowly until the potatoes are cooked through (about 15-20 minutes), stirring occasionally.

After the rice and potatoes are cooked, take of the heat for a moment. The ingredients should be warm (not hot) and it's better if the yogurt has been left out of the fridge for a while, so that when added it doesn't curdle. Add yogurt and gradually heat up the entire mixture and serve.
Many thanks to Ginger Levanti and Frida for the recipe! If anyone would like to share a recipe, I always like to try new dishes. Please feel free to comment below or email me.
-Mama Lisa
2 Responses to "Recipe for Ashe Mast – A White Persian Stew"
KF Says:
January 4th, 2008 at 4:45 am

oh no.. Ash or Ush e must.. is not so thick. It's like soup. it has meat balls, fried onion, no potato, and all those beans.
It's made with lentils & Yellow peas. You also add dry mint at the end

Lisa Says:
January 4th, 2008 at 9:24 am

Your recipe sounds great! Would you like to send us a copy to post?

-Lisa
Leave a Reply