Podcast About Education During The Time Of Corona Virus
July 6th, 2020
Education is challenging in the best of times – much more so during the crisis that Covid-19 has caused.
Meet Dr. Frank Schindelheim and Gaspare Randazzo. Dr. Frank is a professor of education and counseling. Gaspare Randazzo is a creative and innovative high school teacher. Their podcasts cover all things educational, including the difficulty parents and educators have adapting to these unprecedented times. Together, they talk to some energetic and entertaining guests that include educators, celebrities, artists and you, the listener.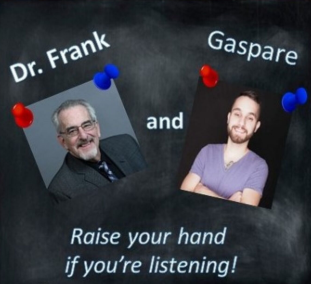 You can find their podcast "Dr. Frank and Gaspare" on Apple Podcasts, Spotify, Stitcher, Google Podcasts.
You can listen in your browser here.
This article was posted on Monday, July 6th, 2020 at 4:48 pm and is filed under Mama Lisa. You can follow any responses to this entry through the RSS 2.0 feed. You can skip to the end and leave a response. Pinging is currently not allowed.
One Response to "Podcast About Education During The Time Of Corona Virus"
Sanne Says:
July 23rd, 2020 at 5:55 am

Yeaha,

Revolution in guidance..

Thanks,
Sanne
Leave a Reply