Pie and Poetry
November 23rd, 2011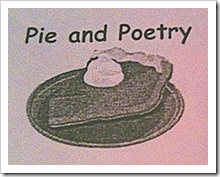 To celebrate Thanksgiving this year in school, my daughter's 5th grade class invited their families to an event called "Poetry and Pie".  Instead of the traditional little Thanksgiving meal in class, the kids read poems and afterwards served seasonal pies to their families. 
Each kid chose their own poem to read.  They practiced reciting their poems in class and at home in the weeks leading up to the event.  Then they read them in front of an audience (consisting of their parents) in the classroom.  It was an informal setting, so they could feel more comfortable. The parents were delighted and the kids had a chance to practice speaking and performing in front of an audience.  What a really great idea! 
This article was posted on Wednesday, November 23rd, 2011 at 10:54 am and is filed under Countries & Cultures, England, English, Holidays Around the World, Languages, Learning, Poems, Poetry, Teaching, Thanksgiving, Thanksgiving, Thanksgiving Poems. You can follow any responses to this entry through the RSS 2.0 feed. You can skip to the end and leave a response. Pinging is currently not allowed.
Leave a Reply