Photos of the Loy Krathong Festival in Thailand
November 21st, 2006
Last year I blogged about the Loy Krathong Festival in Thailand. People float boats with lanterns on them down a river to carry their bad luck away.
Here are wonderful online photos taken at Sukhothai Historical Park, where the festival is said to have first begun. Check 'em out! You'll be transported to a faraway place (unless you're already in Thailand of course)!
If you're interested in hearing the Loy Krathong Song, click the link to my original blog post.
-Lisa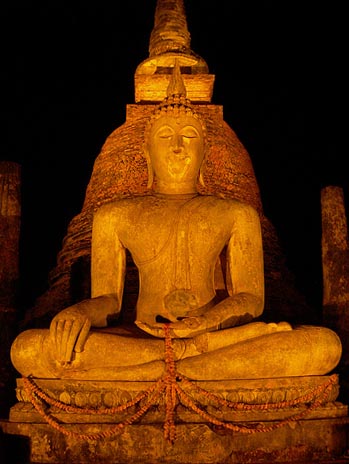 2 Responses to "Photos of the Loy Krathong Festival in Thailand"
DavidR Says:
November 23rd, 2006 at 11:49 am

Hi Mamalisa, I have been to thailand 6 years ago…we were involved in the Sunkran Festival but I had never heard of this one.

I loved thailand… we did everything that took us out of the beaten path… We slept in huts with spiders and gekkos… aahhh memories!

Lisa Says:
November 23rd, 2006 at 12:31 pm

Hi David,

That sounds cool!

If you'd like to share any photos from Thailand, I'd be happy to post a couple.

What was the Sunkran Festival like?

-Lisa
Leave a Reply