Penguin Egg for Easter
March 31st, 2013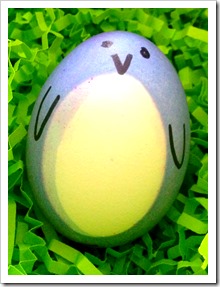 My nephew Alex made this creative penguin egg for Easter!  He dunked a hardboiled egg into blue egg coloring leaving the "belly" white.  Then he drew on the eyes, beak and wings with a sharpie marker.
How cool is that!  It shows how creative you can be when dying Easter eggs.
Thanks for sharing Alex!
xo (Aunt) Mama Lisa
This article was posted on Sunday, March 31st, 2013 at 9:29 pm and is filed under Uncategorized. You can follow any responses to this entry through the RSS 2.0 feed. You can leave a response, or trackback from your own site.
Leave a Reply