Penguin Egg for Easter
March 31st, 2013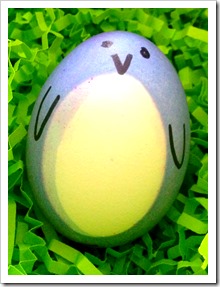 My nephew Alex made this creative penguin egg for Easter!  He dunked a hardboiled egg into blue egg coloring leaving the "belly" white.  Then he drew on the eyes, beak and wings with a sharpie marker.
How cool is that!  It shows how creative you can be when dying Easter eggs.
Thanks for sharing Alex!
xo (Aunt) Mama Lisa
Leave a Reply