Peanut Butter Chocolate Cake Recipe from 10 Year Old Nick
November 29th, 2011
My nephew Nick creates his own recipes. How cool is that!  Here you'll find his Peanut Butter Chocolate Cake recipe with a note he wrote about cooking from scratch…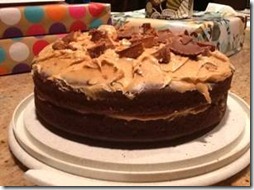 Dear Mama Lisa,
I made this peanut butter chocolate cake for my mom, on her birthday. Her two favorite ingredients are peanut butter and chocolate. Her birthday is right after Halloween, so we had plenty of Reese's Peanut Butter Cups. One of my favorite things to do is cook but especially bake. This was a fun way for me to give a homemade gift to my mom.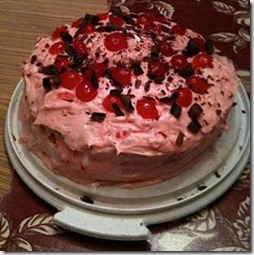 This is my second attempt to bake a cake from scratch using my own recipe. The first cake was a chocolate-cherry cake. For both the cakes were chocolate, and the icing was different for each. I decided to add sour cream to the second cake batter because the first cake was dry.
I encourage kids to try cooking. It doesn't matter if you are helping your mom around the kitchen or making up your own recipe.
I hope you enjoy making my P.B. and Chocolate Cake.
Your Nephew, Nick
Here's Nick's cake recipe…
Peanut Butter Cake:

Chocolate Cake Ingredients:

1. 2 sticks of Butter
2. 1 1/2 cups of Sugar
3. 4 Eggs 
4. 1 3/4 tsp. of Vanilla
5. 3/4 tsp. of Salt
6. 1 tsp. of Baking Powder 
7. 2 3/4 cups of Flour
8. 1/3 cup of Chocolate Powder
9. 1 cup of Sour Cream
10. 1 tsp. Baking Soda

Directions:

Preheat the oven to 350 F.

Whip the butter with a mixer. Then add sugar, eggs and vanilla.

Then whisk all dry ingredients in a separate bowl. Add a cup of the dry mixture in at a time and put the mixer on the lowest it can go.  Then add the sour cream.

Pour batter evenly into two greased round 9 inch cake pans.

Cook for 20 minutes and stick a toothpick in and don't stop cooking it till it comes out clean.

Peanut Butter Icing:

Ingredients for Icing:

1. 2 Reese's Peanut Butter Cups
2. 2 cups of Confectioners Sugar
3. 1 cup of Peanut Butter
4. 1/2 a cup of Cream
5. 2 tablespoons of Vanilla
6. 1 1/2 sticks of Butter

Directions:

Mix everything together (except the Reese's PB cups) till smooth. Put icing evenly on cake.  Break up Peanut Butter cups and put on top of cake.

Bon appetit!
Nick
Many thanks to Nick for the great recipe!  You can see more of Nick's Recipes at FoodJoe.
Enjoy!
Mama Lisa
This article was posted on Tuesday, November 29th, 2011 at 4:13 pm and is filed under Birthday Cakes, Birthdays, Chocolate Peanut Butter Cake, Cooking with Kids, Desserts, English, Holiday Recipes, Holidays Around the World, Languages, Parenting, Recipes of the World. You can follow any responses to this entry through the RSS 2.0 feed. You can skip to the end and leave a response. Pinging is currently not allowed.
One Response to "Peanut Butter Chocolate Cake Recipe from 10 Year Old Nick"
simplechocolatecakerecipe.com Says:
October 4th, 2013 at 6:56 am

What a recipe !!!!
Thank You So Much !!!!!
Leave a Reply