Pajama Day at School
December 23rd, 2011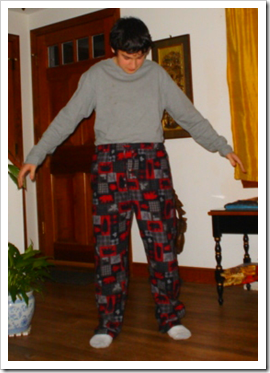 On special occasions, our elementary schools have what's called Pajama Day.  On Pajama Day, students are allowed to wear their pajamas to school.  [Pajamas are the pants and tops that kids wear to sleep at night.]
I had never been up at the school on Pajama Day before.  Today I went to my daughter's school to help out.  When I walked in, I saw a grown man, the Vice Principal, in flannel pajamas… wearing a Santa hat because it's nearly Christmas.  That was a funny sight to see!
Then I walked past the gym and all the kids were playing sports in their pajamas and the teachers all had on P.J.'s too! 
What fun to have a Pajama Day in school.
Leave a Reply