Our Mini-Goldendoodle Dog
November 10th, 2010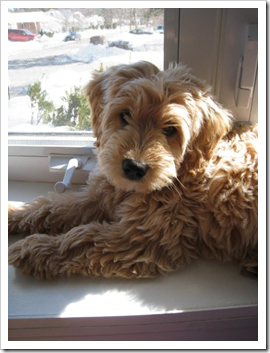 Our puppy at 10 weeks old
I've written in the past about Hypoallergenic Dogs for Families with Dog Allergies.  We were deciding which type of dog to get at the time, considering that we have mild dog allergies in our family.
My sister's family has the same problem.  They got a mini-labradoodle about 4 years ago.  It's a Mini-Poodle mixed with a Labrador Retriever.  It weighs about 17 pounds.  We've always loved her dog.  It's very sweet.  It's a true lap-dog and will sit on your lap for hours. 
We wanted a slightly larger dog (medium-sized) that could take long walks with us.  Sometimes we go 5+ miles and we worried that a lap dog just wouldn't make it.
In the end, we called the farm where my sister got her dog and inquired if they had medium sized dogs.  We ended up getting a mini-goldendoodle: a mixture of mini-poodle and golden-retriever. 
We named her Mango and she's expected to grow to about 30 pounds.  She's really perfect!  She can walk far and absolutely loves to go out hiking with us.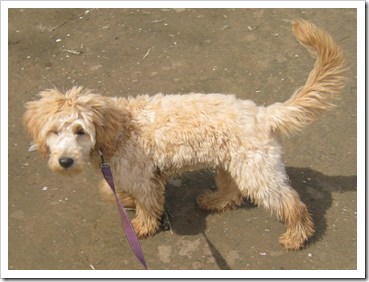 Our dog at about 9 months
She swims.  She's friendly with other dogs, people, and most importantly, kids.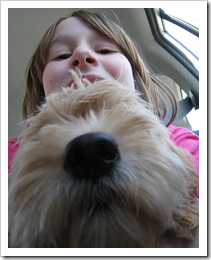 My family hasn't had any allergy issues with Mango either.
If you have allergy issues and are considering this type of dog, or any other type of dog, it's highly recommended that the allergic person spends some time with the pup to see how they react, before buying.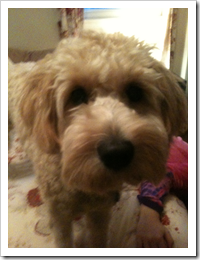 Mango today at 1 year old
Good luck if you're in the process of choosing a dog.  We love ours and can no longer imagine life without a canine companion!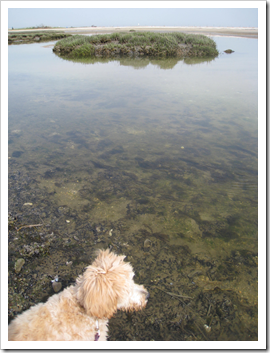 This article was posted on Wednesday, November 10th, 2010 at 5:19 pm and is filed under Dogs, Hypoallergenic Dogs, Parenting, Pets. You can follow any responses to this entry through the RSS 2.0 feed. You can skip to the end and leave a response. Pinging is currently not allowed.
3 Responses to "Our Mini-Goldendoodle Dog"
GoldendoodleBreed Says:
December 26th, 2010 at 2:31 am

It is believed the fact that the Goldendoodle's origin is linked to that of the Labradoodle. The Labradoodle was very first bred in Australia so that you are able to serve with people with allergies. The Labradoodle was an almost real time success and numerous breeding choices were used to provide a mixture of varied size of Goldendoodles by using general sized poodles as well as smaller varieties. at the present this breed stays quite widespread and is particularly useful with people who end up with having allergic reactions as a result of the incontrovertible fact that many Goldendoodles are typically hypoallergenic. additionally they carry on function handbook canine as well. They have remained well-known throughout Australia and North America since across the middle 1990's and continue to remain well-liked and well loved family dogs.

Jeff Says:
September 25th, 2014 at 3:53 pm

I have a Full sized Golden Doodle named Mango!!! She is abnormally small given the sizes of her parents. She only weighs about 40 pounds! Still thinks she is a lap-dog. Never has biten anyone. Always gets on her back legs to give hugs as people enter the house. Golden Doodles are the best dogs ever!

Lisa Says:
September 25th, 2014 at 3:58 pm

That's funny Jeff that you named your dog Mango too. It's a perfect name! Our Mango is about 40 pounds too. Now she's almost 5 years old. We're crazy about her. The other funny part is that everyone in the neighborhood knows her. When she's sitting at the front screen door, people we don't even know will call out, "Hi Mango!"
Leave a Reply