OMG! Recipe for Whole Wheat Cranberry Bread
December 9th, 2010
My husband thinks it's reverting to the teenage years using OMG!  Yet, sometimes it's perfectly fitting.  Take this whole wheat cranberry bread I made this evening, OMG!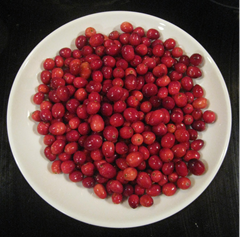 It's still cranberry season here in New York so I had to get some while they're still looking so plump and deep red!
I used a little cornmeal in my recipe to get some of that earthy cornbread texture. Yum!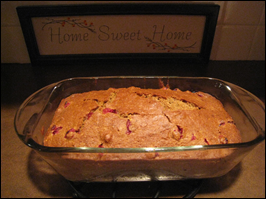 You may want to consider two points about how you want to make your cranberry bread:
First, do you want the tart flavor of whole cranberries? If so, then leave them whole.  If that's too strong a taste for your family, then chop them up.  Kids are more likely to prefer them chopped.  But it's your choice!
Second, you can either toast the walnuts beforehand or use them straight from the container.  Toasting nuts is very easy.  You can do it in the background while you're preparing your recipe.  Preheat the oven to 350 F.  Put the nuts in an oven-safe pan.  Cook them for 5 minutes and then flip them and cook for another 3 – 5 minutes.     Toasted walnuts add a heavenly taste to the bread. 
Recipe for OMG! Whole Wheat Cranberry Bread

Makes 2 Loaves
2 1/2 cups Cranberries (more or less)
1 cup Walnuts
3 cups White Whole Wheat Flour*
1 cup Cornmeal
3/4 cup Sugar
3/4 cup Light Brown Sugar
2 t. Salt
1 1/2 t. Baking Soda
1 1/2 t. Cinnamon
2 Eggs, well beaten
1 1/2 cup Orange Juice
2 T. Orange Zest (plus you can use the juice from the actual orange you get the zest from)
1 stick (1/2 cup) Butter, melted

*White Whole Wheat Flour is lighter than traditional Whole Wheat Flour. So it's easier to use for baking, yet is has more nutrients than All-purpose White Flour.

Preheat Oven to 350 F.
1. Grease two 9 x 5 inch loaf pans.

2. Toast the Walnuts.  Let cool a little and chop them up.  If you're chopping the cranberries, you can do it now.  Set both aside.

3. Mix together dry ingredients: flour, cornmeal, sugar, brown sugar, salt, baking soda and cinnamon.

4. Stir in the eggs, melted butter, orange juice, orange zest and the extra juice from the "zested" orange.  Mix until well blended. 

5. Fold in the cranberries and chopped nuts.

6. Spread evenly into the 2 loaf pans.

7.  Bake for 55 – 65 minutes.  It's done when a toothpick inserted in the middle of the loaf comes out clean.

8.  Let sit on a rack for 15 minutes before slicing. 

It's delish warm from the oven.  Enjoy!

Mama Lisa
UPDATE: I'm finding that white whole wheat flour has a shorter shelf life. Therefore, you should plan to eat the bread over a couple of days only. If you make the two loaves, perhaps you can give one to a friend.
This article was posted on Thursday, December 9th, 2010 at 1:28 pm and is filed under Bread, Countries & Cultures, Cranberry Bread, Fall, Holidays Around the World, Recipes of the World, Seasonal, Thanksgiving, USA. You can follow any responses to this entry through the RSS 2.0 feed. You can skip to the end and leave a response. Pinging is currently not allowed.
Leave a Reply