Marshmallow Candy Dreidels
December 7th, 2010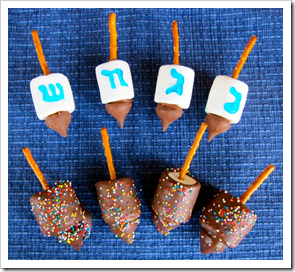 What a great idea to make candy dreidels for Hanukkah!  They're dreidels made out of marshmallows, with candy kisses attached using Nutella as "glue". Then dipped in chocolate with a mini pretzel stick as the handle.  Check out the recipe at The Shiksa in the Kitchen Blog.
Many thanks to Corrine Lewack for pointing out this wonderful treat!
Happy Chanukah!
Mama Lisa
Photo from The Shiksa Blog
This article was posted on Tuesday, December 7th, 2010 at 2:56 pm and is filed under Candy Dreidels, Countries & Cultures, Desserts, Hanukkah, Hanukkah Recipes, Holiday Recipes, Holidays Around the World, Israel, Recipe Links, Recipes of the World, USA. You can follow any responses to this entry through the RSS 2.0 feed. You can skip to the end and leave a response. Pinging is currently not allowed.
One Response to "Marshmallow Candy Dreidels"
Marny Says:
April 27th, 2011 at 3:53 am

Also at The Shiksa Blog:

Kosher Note: Most major marshmallow brands are not kosher because they contain gelatin, which is derived from pig. However, there are brands that make kosher marshmallows out there.

* * * *
Not all Jewish people keep kosher but if making and taking such a treat to friends and/or family, it would be best to ask them if they prefer kosher marshmallows (and pretzels)
Leave a Reply