National Foreign Language Week
March 8th, 2007
In the United States, National Foreign Language Week is being celebrated this week. It's normally held the first week of March each year.
National Foreign Language Week was started 50 years ago, in 1957, by President Eisenhower to encourage Americans to learn a second language, thereby improving our communication with (and hopefully understanding of) the rest of the world.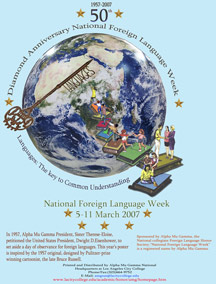 National Foreign Language Week is mainly celebrated in schools around the country.
In my son's middle school, each day they're focusing on a different language. The morning announcements are said in that day's language. The students are encouraged to wear colors from that country's flag. So if the language is French and the country is France – they're supposed to wear the colors of the French flag – red, white and blue.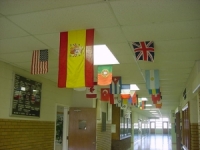 Some other good ideas I've seen are:
-Decorate the halls with flags from around the wall.
-Label the names of the classes in different languages.
-At the entrance of the school write "hello" or "greetings" in many different languages.
-Ask school librarians to highlight books about different cultures.
Does anyone know of other ideas to promote cultural awareness and an interest in language learning in schools? We'd love to hear about any other ideas. Please comment below.
Thanks!
Lisa
One Response to "National Foreign Language Week"
Monique Says:
March 9th, 2007 at 5:11 pm

Learning how to say "I love you" -teenagers tend to kind of grunt when told about it but are very interested! They could be more interested by learning naughty words but I don't think it's school business to teach them!
Learn a short song (and visit Mama Lisa's World)
National motto
Name of famous writers and/or musicians + title of a work
Pictures of:
"National"/typical dish and/or drink.
Some important monuments or events (Eiffel Tower in Paris, St Peter's Cathedral in Rome, Alhambra Palace in Granada, the Great Wall of China, Sakura in Japan)
Famous paintings reproductions
Typical costume if any
Leave a Reply