My Mother's Delicious Eggnog Recipe
December 30th, 2005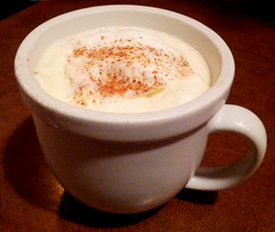 This is the Eggnog recipe my mother used when I was growing up. Yummy… Yes! Rich… Yes!
Eggnog

4 Eggs, separated
1/3 cup + 3 T. Sugar
3 c. Milk
2 c. Light or Heavy Cream
¾ c. Cream Sherry
Nutmeg

Beat egg yolks with 1/3 cup sugar till fluffy. Gradually blend in milk, cream and sherry till smooth. Cover bowl and chill for 2 hours.

Beat egg white till foamy, gradually add about 3 T. sugar or to taste.

Float egg white on top of eggnog mixture and sprinkle with nutmeg.
Enjoy! But beware, it's alcoholic and has raw eggs!
Cheers!
Lisa
Leave a Reply