New Mr. Rogers Video Remix
June 6th, 2013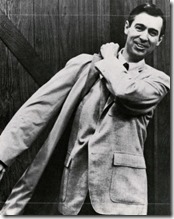 Many of us grew up watching Mr. Rogers.  He was on the kids' show Mister Rogers' Neighborhood that ran in some form from 1963 to 2001. 
Here's a Mr. Rogers video song remix called Sing Together that was just released by PBS (the station that ran his show).  It's a sequel to the previous Mr. Rogers Remix called Garden of Your Mind.

Even us adults can still learn from Mr. Rogers!
This article was posted on Thursday, June 6th, 2013 at 12:07 pm and is filed under Countries & Cultures, English, Languages, Movies, TV & The Internet, Mr. Rogers, Music, USA, YouTube. You can follow any responses to this entry through the RSS 2.0 feed. You can skip to the end and leave a response. Pinging is currently not allowed.
Leave a Reply