I love you with a cherry on top
June 7th, 2013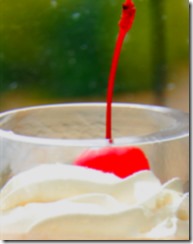 Who remembers the expression "I love you with a cherry on top"? 
I remember saying it to my mother either to express love or to butter her up if I wanted something!
You can make the expression even stronger, by adding more and more toppings as if your love was an ice cream sundae.  You can say something like, "I love you with a cherry on top, and chocolate syrup, with marshmallows, whipped cream and sprinkles…" You can go on and on adding stuff.
It's a nice little word game to play with kids.  Plus it's a sweet way to express your love!
I asked Monique in France if they have an expression like that.  She wrote:
"I never heard any. What children say is 'Je t'aime grand comme ça' (I love you big like that) or 'Je t'aime grand comme le ciel' (I love you big like the sky) with their arms wide open but not to get something. As far as I know, we don't have those -even to express to someone how much we love them. We have 'je t'aime comme un fou' (I love you like a crazy person) but it's more for songs than for real life.  
Now, to get something, it was, is, and will be…'Allez, maman, alleeeez….' (Come on, mama, come on!) as if you were to die if she didn't give in. It can also be, 'S'il te plaaaîîîît…' (Pleeeeeease!)"
Kids here in the US also say "Pleeeeeeease!" to their moms when they really want something.
Pleeeeeeease let us know in the comments below what expressions kids use where you're from to express great love and what they say to try to get what they want. 
Also, do you have an expression like, "I love you with a cherry on top"?
Mama Lisa
This article was posted on Friday, June 7th, 2013 at 3:53 pm and is filed under Countries & Cultures, England, English, Games Around the World, I love you with a cherry on top, Languages, Questions, Readers Questions, USA, Word Games, Words & Phrases. You can follow any responses to this entry through the RSS 2.0 feed. You can skip to the end and leave a response. Pinging is currently not allowed.
6 Responses to "I love you with a cherry on top"
Leave a Reply