Dancing the Moribayassa in West Africa
June 1st, 2015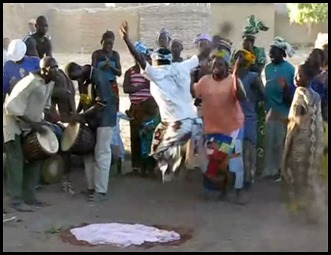 The Moribayassa is a dance of the Malinke people of West Africa.  It's danced in Guinea, Mali and other West African countries.  When women need help with something very important -like becoming pregnant or healing from a sickness- they ask the spirit of Moriba Yassa for help.  The woman vows that when the wish is granted, she will dance the Moribayassa.
To dance the Moribayassa, the woman dresses in rags, messes up her hair, acts crazy and dances to the beat of drums.  The other women in the town accompany her with djembe drummers.  They dance around the town several times, usually ending on the outskirts of the village at an old tree (that's sometimes called the Moribayassa). The woman then leaves the rags behind the tree or buries them there.
In the video below, you can hear a man describe the dance of Moribayassa as it used to take place in his village of Balandougou in Guinea.  The man speaks in French and there's an English interpreter explaining what he says. He says the Moribayassa is no longer performed in his town.
Below you can watch an African Dance corps dancing the Moribayassa…
Below you can hear a version of Moribayassa sung by Malian group…
You can read more about Moribayassa and find musical samples and notation here.
Enjoy!
Mama Lisa
Photo from Mali Village Dance
This article was posted on Monday, June 1st, 2015 at 4:30 pm and is filed under African Customs, African Music, Countries & Cultures, Customs and Traditions, Dances, Guinea, Guinea-Bissau, Mali, Malinke People, Moribayassa, Music. You can follow any responses to this entry through the RSS 2.0 feed. You can skip to the end and leave a response. Pinging is currently not allowed.
2 Responses to "Dancing the Moribayassa in West Africa"
jacquee Says:
October 10th, 2015 at 2:44 am

Do you happen to know of any videos of Moribayassa singing the song with the drumming? Thanks.

Why Malinke women of Guinea perform the popular Moribayassa praise dance in ragged clothes - Afrii-News Says:
February 8th, 2021 at 10:55 pm

[…] drummers beat the drums which symbolize life and a heartbeat around the town, starting from the Moribayassa or mango tree and ending at another mango tree while the woman dances […]
Leave a Reply