Light Apple Pie Recipe + Apple Picking Traditions + Recipe for Gluten Free Baked Apple
October 20th, 2008
Every year we go apple picking in September or October. One of our favorite orchards has dwarf apple trees, which has been nice with little kids. Though next year we may be able to graduate to an orchard with normal sized trees since our kids are getting taller.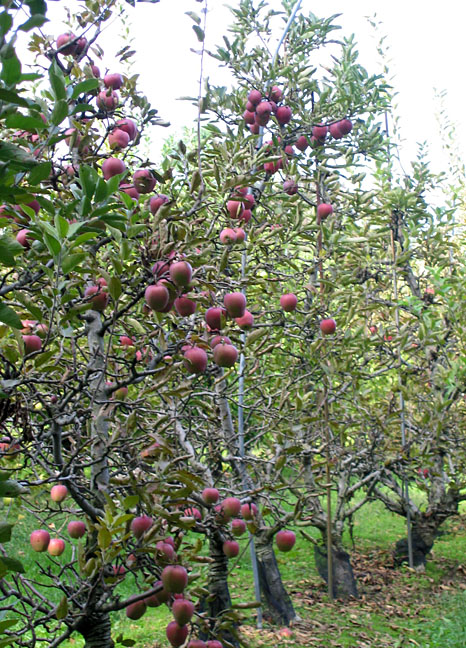 One treat we make after apple picking is home-made apple pie with vanilla ice cream. Last year I posted a recipe for a delicious recipe for apple pie that had lots of cinnamon. This year we made a light pie, with less sugar. This recipe has more of a lemon flavor, which we surprisingly liked a lot! The same night we had the pie, my son's friend ate over. His friend can't eat gluten. So I made for him a baked apple with cinnamon sugar. I'll post both recipes below.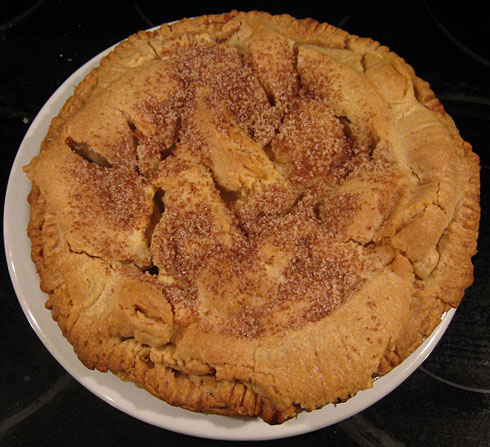 Apple Pie Recipe
2 Frozen Pie Crusts
8-10 small to medium Apples (7-8 cups sliced)
2 1/2 t. Lemon Juice
1/4 t. Grated Lemon Rind
1/3 c. Sugar
1/4 t. Salt
Mix to Sprinkle on Top
2 t. Sugar
1/8 t. Cinnamon
Preheat oven to 425°F.
Take out the 2 frozen pie crusts. Turn one of the pie crusts out of its pan and onto wax paper. Leave the other in its pan. Let sit for 10-15 minutes.
Peel, core and cut the apples into 1/4 inch slices. You should have 7 to 8 cups of apple slices. Then mix the apples with the sugar, lemon juice, lemon rind and salt.
Pour apple mixture into the pie crust that's in the pan. Wet the rim of the crust with a little water. Gently place the second crust over the pie, trying to match up the ends of the bottom crust and the top crust. With a fork, press down around the ends of the crust, pressing the 2 crusts together. Make four neat slits on the top crust to allow the steam to escape. Sprinkle mixture of 2 t. sugar and 1/8 t. cinnamon on top of pie.
Place a cookie sheet, covered with aluminum foil, under the pie. Bake for 15 minutes at 425°F.
Reduce oven heat to 375°F and cook for about 45 more minutes. The pie is done when the apples feel tender when poked with a butter knife.
If the crust is starting to get too dark at any point during baking, you can put aluminum foil loosely around the edges of the pie crust to prevent it from burning.
To reheat the pie later on: After the pie has cooled you can reheat it in a 325°F oven for about 15 minutes.
Serve with vanilla ice cream or whipped cream.
*****
This baked apple was extremely easy to make. My son's friend loved it. Though I have a confession to make: it's filled with sugar and cinnamon.
Gluten Free Baked Apple
2 Apples
1/8 cup Brown Sugar
1/8 cup White Granulated Sugar
1/2 – 1 t. Cinnamon (to taste depending on who's eating it)
-Mix the brown sugar, the white sugar and the cinnamon.
-Horizontally cut off the top 3/4″ of the top of the apple and set to the side (this top you can put back on for cooking).
-Core the apple.
-Put the sugar mixture into the apples and then cover with the apple tops.
-Wrap the apples in aluminum foil and bake on 375F for about 20-25 minutes, until soft.
Take off tops and serve in bowls with vanilla ice cream or whipped cream.
If there's any sugar mixture left over you can use it for the top of the apple pie.
This article was posted on Monday, October 20th, 2008 at 6:29 pm and is filed under Apple Pie, Autumn, Baked Apple (Gluten Free), Canada, Countries & Cultures, Desserts, Fall, Holidays Around the World, Mama Lisa, Recipes of the World, Seasonal, United Kingdom, USA. You can follow any responses to this entry through the RSS 2.0 feed. You can skip to the end and leave a response. Pinging is currently not allowed.
2 Responses to "Light Apple Pie Recipe + Apple Picking Traditions + Recipe for Gluten Free Baked Apple"
Aya Says:
June 14th, 2011 at 2:03 am

I like Apples. So nice posting.Thank. You.

Aya Says:
June 14th, 2011 at 2:05 am

Looks so yummy.!! Great.
Leave a Reply