Lemonade – A Handclapping Rhyme
May 21st, 2008
Here's a rhyme my 1st grade daughter just taught me. You can hear her reciting it by clicking on the mp3 below. The actions that are done with the rhyme are in parentheses…
Lemonade, Crunchy Ice

Lemonade*
(clap, clap, clap)
Crunchy ice*
(clap, clap, clap)
Sip it once*
(clap, clap, clap)
Sip it twice*
(clap, clap, clap)
Turn around (turn around)
Touch the ground (touch the ground)
Kick your brother out of town!
And stomp! (jump)
*You can play this with two people. While you're saying these lines you clap each other's hands in the following way: one person's left hand is clapping down and their right hand is clapping up while the second person faces the first and does the opposite. Then switch the hand that's clapping up to clap down, and the one clapping down to clap up.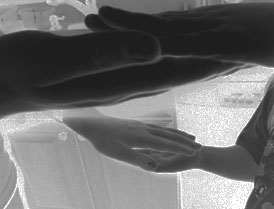 Check out Mama Lisa's World for the Song Page of Lemonade, Crunchy Ice.
This article was posted on Wednesday, May 21st, 2008 at 10:51 pm and is filed under American Kids Songs, American Nursery Rhymes, Children's Songs, Countries & Cultures, English, Hand Clapping Rhymes, Languages, Lemonade, Crunchy Ice, Mama Lisa, MP3's, Nursery Rhymes, Recordings of Songs, USA. You can follow any responses to this entry through the RSS 2.0 feed. You can skip to the end and leave a response. Pinging is currently not allowed.
64 Responses to "Lemonade – A Handclapping Rhyme"
Leave a Reply