Ladybird, Ladybird, Fly Away Home
September 27th, 2008
I recited this rhyme to my 7 year old daughter while driving in the car today…
Ladybird, Ladybird,
Fly Away Home,
Your House is on Fire
And your children all gone.
(Ladybird is the British word for ladybug.)
My daughter commented that it's a sad rhyme. I explained that people had harder lives at the time they came up with it. (It's been around since at least the mid-eighteenth century.) She thought about it and commented, that would be all the more reason for them to have come up with happier rhymes.
She's got a point!
-Mama Lisa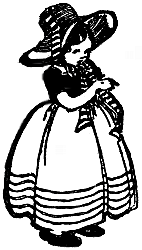 The illustration is from The Little Mother Goose (1912), illustrated by Jessie Willcox Smith.
Come check out my nursery rhyme site for other versions and illustrations of Ladybird, Ladybird.
This article was posted on Saturday, September 27th, 2008 at 5:27 pm and is filed under Australia, Canada, Countries & Cultures, England, English, Languages, Mama Lisa, Nursery Rhymes, United Kingdom, USA. You can follow any responses to this entry through the RSS 2.0 feed. You can skip to the end and leave a response. Pinging is currently not allowed.
One Response to "Ladybird, Ladybird, Fly Away Home"
kiran Says:
November 18th, 2008 at 8:42 am

Rhyme :

Mummy darling, I love you, I love you…..
see your baby dancing, see your baby dancing just for you…
Papa darling, I love you, I love you…..
see your baby dancing, see your baby dancing just for you…
Leave a Reply