Kids Adjusting to Change
September 5th, 2007
It's interesting to see how kids will adjust to change. Even slight changes can be temporarily jarring to them.
This past month, I had to get glasses for the first time ever. (Ah, the joys of aging!) When I first came home with them, my teenage son first looked away really fast, as if he was shy about it. Then, after that little incident, he looked at me normally.
For my daughter who's just starting 1st grade, it took longer to get used to them. She practically burst into tears the first time she saw me in glasses, like, "What have they done to my Mommy?" She would unexpectedly act like that over the next couple of days. Finally, on the third day, she drew the picture below, and never made mention of it again. It was her sign that she had come to accept me in glasses.
Now I just have to get used to them myself!
-Mama Lisa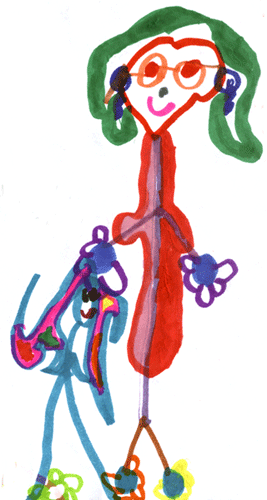 This article was posted on Wednesday, September 5th, 2007 at 3:33 pm and is filed under Mama Lisa. You can follow any responses to this entry through the RSS 2.0 feed. You can leave a response, or trackback from your own site.
3 Responses to "Kids Adjusting to Change"
Monique Says:
September 5th, 2007 at 6:59 pm

You maybe have glasses, but she drew you with a heart shaped face = Mommy, I love you all the same.

DevonT Says:
September 7th, 2007 at 10:44 am

What an awesome picture. Heart face and flower feet!

Linda Says:
September 14th, 2007 at 7:50 am

Beautiful! Just beautiful. My 2 year old continues to yank my new glasses off my face and crush them. I don't think she has adjusted yet and I have had them for 5 months!
Leave a Reply