Japanese New Years Food Traditions–Kamaboko & Toshikoshi
December 28th, 2011
Ayako Egawa wrote from Japan about Kamaboko, a sort of gelled fish cake that's eaten there.  The one pictured below was made for the New Year.  The character on these Kamaboko is called Kizuna (meaning bond) which is the symbol for 2011.  (A character is chosen annually in Japan that best symbolizes the year that just passed.)  Here's what Ayako wrote: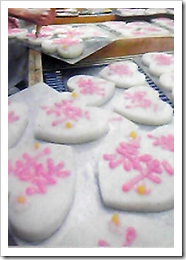 Hello Lisa, 
Today is December 28th. and I found a very pretty Kizuna kamaboko photo in our paper.
Kamaboko is our traditional fish paste food, which is used in New Year's foods too.   In the pic, Kizuna letters were put on heart shaped kamaboko. It was made at Tohoku, a tsunami area. It looks really pretty.
Hope you like my pic.
Ayako

Thanks for sharing Ayako!  I read on Wikipedia that, "Red-skinned and white kamaboko are typically served at celebratory and holiday meals, as red and white are considered to bring good luck."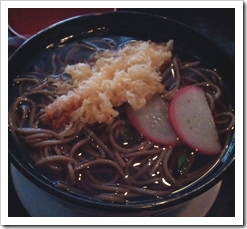 I have had kamaboko here in the US.  We often eat soba soup at a Japanese restaurant.  They put a slice of kamaboko on top of the soup with a piece of shrimp tempura.  Ayako told me soba noodle soup is traditional to eat for the New Year in Japan.  It's called toshikoshi soba noodles, meaning "crossing into the new year noodles".  I found a recipe for toshikoshi here.
Here's wishing you good luck in the New Year!
Mama Lisa
This article was posted on Wednesday, December 28th, 2011 at 10:50 pm and is filed under Countries & Cultures, Cuisine, Customs and Traditions, Folk Lore, Good Luck, Holidays Around the World, Japan, Japanese, Japanese Cuisine, Languages, New Years, Recipes of the World, Toshikoshi, Traditional New Years Food. You can follow any responses to this entry through the RSS 2.0 feed. You can skip to the end and leave a response. Pinging is currently not allowed.
3 Responses to "Japanese New Years Food Traditions–Kamaboko & Toshikoshi"
Ayako Says:
December 29th, 2011 at 7:20 am

Lisa thank you.

Lisa's pic is common and traditional kamaboko and yes, red and white means lucky colors in Japan. And we eat special soba soup with slice of kamaboko at end of the year too. It is such a special meal on Dec 31 in Japan.

Ayako Says:
January 5th, 2012 at 6:19 pm

Hi, Lisa this morning I showd you our new years foods That is called
osechi ryouri in Japan. It is traditionally prepared with prayers for health and family safety and with prayers for health and family safety and proepreritiy.

Acuatlly recently we can get many stuffss , so easy to make it too. But if you make some of them by yourselves, it must be much more happier for thier family. Especailly I love Kuromame beans, so sweet. My mother made .

And Ichigo daifuku is our favorite sweets for japanese spring.
It looks unique. so I'd love to show how it looks inside. I attach photos to your facebook accounts. thank you.

Ayako Egawa

Ayako Says:
January 5th, 2012 at 7:07 pm

Lisa, ps. Please add my Yuzu foods I made this new year. too. Yuzu is a spcial citrus fruits for our winter , which has a varitety of uses .

It is simple cooking , but surely adds special cheerful color for our osechi ryouri.
Leave a Reply