On January 6th, The Three Wise Men Leave Gifts for Children in Spain
January 5th, 2006
January 6th is the Epiphany. It's the day the baptism of Christ is celebrated.
January 6th is also the Day of the Three Magi Kings or Wise Men. Their names are Caspar, Melchior and Balthasar. The Epiphany is celebrated in some countries as the day the three wise men visited the infant baby Jesus. This is especially important in Spain and other Hispanic cultures around the world, where the day is called Fiesta de Los Tres Reyes Mages.
The Day of the Three Magi is celebrated like Christmas in Spain. It's the day the children are given presents. On the night of the 5th, instead of stockings, kids leave their shoes out, stuffed with straw. It's not Santa who comes in the middle of the night leaving the children presents. Instead, it's the three magi who come bringing gifts for the kids, just like they gave the baby Jesus presents in honor of his birth. The straw in the children's shoes is for the Wise Men's camels to eat.
To celebrate the Epiphany in Spain there are also often parades featuring the three magi…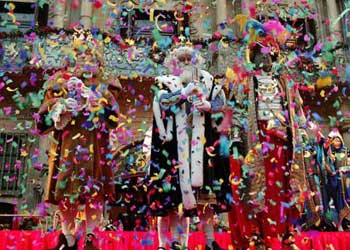 The special food that is eaten on the Epiphany is called Roscón de Reyes, meaning "twisted roll of kings". It's a loaf in the shape of a crown with fruit and nuts on top and filled with chocolate or whipped cream. There's supposed to be a gold coin inside it. It's said that the person who finds the coin will have good luck throughout the upcoming year.
Hear the song called Caspar, Melchior and Balthasar from Argentina.
Happy Epiphany!
Lisa
This article was posted on Thursday, January 5th, 2006 at 10:26 pm and is filed under Argentinean Children's Songs, Countries & Cultures, Desserts, Epiphany, Gaspar, Melchior and Balthasar, Holidays Around the World, Languages, Recipe Links, Recipes of the World, Roscón de Reyes - Twisted Roll of Kings, Spain, Spanish. You can follow any responses to this entry through the RSS 2.0 feed. You can skip to the end and leave a response. Pinging is currently not allowed.
11 Responses to "On January 6th, The Three Wise Men Leave Gifts for Children in Spain"
Leave a Reply