Jamaican Folk Dances
February 24th, 2016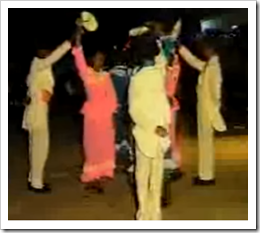 I recently came across this short video (below) that shows some interesting styles of Jamaican Folk Dances.  Here's a breakdown of the dances you'll see…
1. Ring Games – Danced in a circle – These were traditionally played and danced by adults and children alike. Though today, they're more for children.
2. Maroon Dances – These dances come from the descendants of slaves who freed themselves and established communities in Jamaica.
3. Quadrille – This was originally a ballroom dance from Europe. The gentry danced it in Jamaica during the time of slavery.  It's performed by four couples in a square or rectangular formation. There are two types of this dance in Jamaica – the Ballroom Quadrille (European) and the Camp Quadrille (Creole version).
4. Maypole Dance – This comes from Europe where it was originally danced on May Day (May 1st) as part of a fertility celebration.
5. Dinkimini – A dance from Africa, originally performed after the death of someone to help try to lighten the mood of the bereaving family.
6. Brukins – A traditional dance originally performed in celebration of the emancipation from slavery on August 1, 1838.
You can see samples of these dances in the video below…
Enjoy!
Mama Lisa
Related Links:
10 Traditional Jamaican Dances
The Quadrille in the Caribbean (with videos)
This article was posted on Wednesday, February 24th, 2016 at 6:57 pm and is filed under Countries & Cultures, Dances, Folk Dances, Folk Music, Folk Songs, Games Around the World, Jamaica, Music. You can follow any responses to this entry through the RSS 2.0 feed. You can leave a response, or trackback from your own site.
One Response to "Jamaican Folk Dances"
Omalone1 Says:
September 7th, 2016 at 9:30 pm

Gwiz it seems these are white dances adapted by black people so I am weary about referring to them as traditional
Leave a Reply