Irish Cuisine and Potatoes + A Spud Rhyme
June 10th, 2012
The site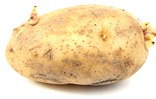 Allsorts has an article about the importance of potatoes in Irish cuisine: "A discussion of Irish childhood food memories has to be somewhat coloured by potatoes… Every single meal I remember had potatoes in one disguise or other… If it didn't have potatoes, it wasn't a proper meal; more like a snack."
They even have a rhyme about potatoes (aside from the popular One Potato, Two Potato).  When spoken out loud, this rhyme also makes gentle fun of the accent of Cork, Ireland:
Are you from Cork?
I am are you?
Do you eat potatoes*?
Indeed, I do.
How'd ye eat them?
The skins an' all.

*Or "spuds"
Check out the article to learn more about Irish cuisine.
Leave a Reply