Indonesian Banquet Food
February 23rd, 2010
Lin from Indonesia shared these photos of typical Indonesian food served at a banquet.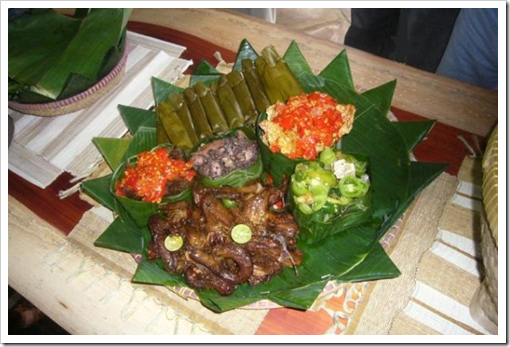 Lin said, "It is common in Indonesian banquet style (formal or informal) to serve the feast on particular leaves. Usually we used banana leaves, teak (jati) leaves, coconut tree leaves, etc. They're all arranged on a rounded ethnic winnowing tray (tampah).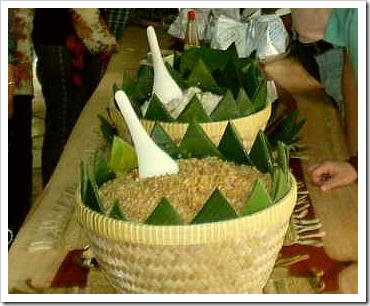 These are the main side dishes along with Tuk Tuk rice and Uduk rice (in the photo above) as a main menu. The feast table is from very old teak wood, lined with ethnic tablecloths and serviettes."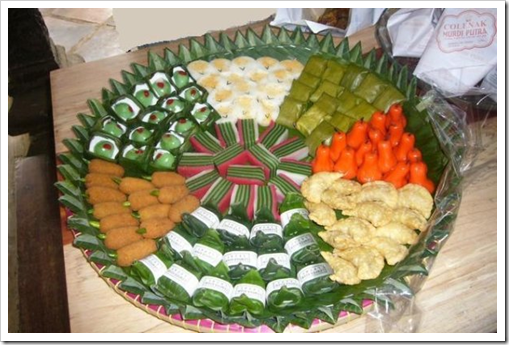 I asked if the dough covered patties on the tray above are samosas (Indian meat or potato patties).  Lin wrote, "They're fried pastel cake, samosas' sister, since they also contain chicken meat, not just veggies. These are some variety of one-bite cakes, very eye catching & yummy in different textures and tastes. But actually the special ones are 'Colenak' (yummy dip) at the top right corner. Colenak is a new Bandung snack specialty. [Bandung is the capital of West Java province in Indonesia.] It's not eye catching, but very very yummy and enjoyable."
I asked about the orange things on the tray and Lin wrote, "Oh, they're fruit (jambu air/syzygium aqueum), shapes cakes, made by flour, shredded coconut and brown sugar. All the things on the tray are cakes."
Thanks for sharing these photos with us Lin!  Yum yum!
Mama Lisa
One Response to "Indonesian Banquet Food"
Sammy Li Wei Long Says:
May 23rd, 2010 at 3:43 am

Just a little addition for the word "Colenak". That is actually an abbreviation of "Di cocol enak", meaning "it is so delicious when you dip it", it can mean either dip it into something like sambal or sweet sauce or dip it into your mouth. Selamat makan! Which can mean eat safely or enjoy your meal. Bon apetite! Eet heerlijk!
For those of you who like to try various kind of Kangkung dishes with beautiful photos in Indonesian songs go to this website:
http://musikz.com/lenggang-lenggang-kangkung-a-happy-go-lucky-indonesian-folk-song-performed-by-stanley-power.html
Leave a Reply