How to Make Tamarind Sauce
May 6th, 2011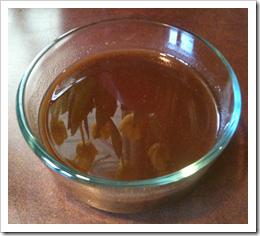 Tamarind Sauce is a sweet and sour chutney from India.  I call it a sauce because it's thinner and more liquid than common chutneys.  It's often served with poppadom, a crispy round wafer.
Tamarind sauce is hard to find in stores in the US.  Since my husband and I love it, I decided to learn how to make it myself.  First we inquired at an Indian restaurant we go to.  The lady there told me to find tamarind pulp. This is the base of the recipe.
Tamarind Pulp can be found in Indian stores.  So can garam masala, a spice you'll need.  Once you have these ingredients, it's easy to make this sauce.
Ingredients

1 cup (about 7 oz.) Tamarind Pulp
1 1/2 cups Hot Water
6 T. Brown Sugar
2 t. Garam Masala
1 t. Ginger Powder
2 t. Cumin
1/8 t. Cayenne Pepper
1/4 t + 1/8 t. Salt
Cinnamon to Taste (optional)

1. Put the Tamarind Pulp in a bowl with the hot water and break it up with a spoon. Let it soak for 30 minutes. 



2. After soaking the tamarind, strain the mixture into a small pot.  While it's straining, smush the pulp with a spoon against the strainer to help the thick juice to go through the strainer.
3.  Add the rest of the ingredients and bring to a simmer until thickened.
You can serve Tamarind Sauce with poppadoms or samosas.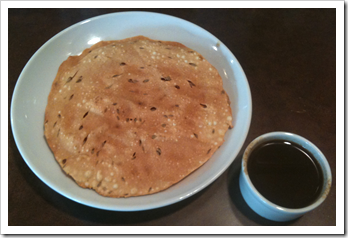 Here's a video about baking poppadam…
Enjoy!
Mama Lisa
13 Responses to "How to Make Tamarind Sauce"
Leave a Reply