Cranes – A Japanese Symbol of Peace and Succor
May 6th, 2011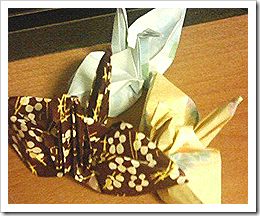 Ayako wrote to me from Japan about some origami cranes she got at when donating at a charity for the tsunami victims in Japan…
"This is our traditional crane, made by origami… it's a symbol of hope for peace in the world.  I got it at the charity show to pray for Japan.  It's our sign for peace or comfort for recovery from illness or war."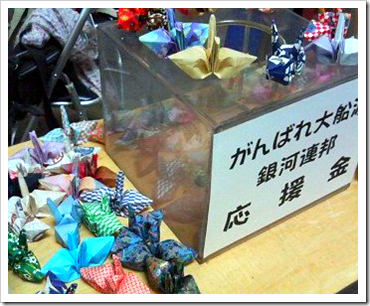 Thank you for sharing Ayako.  We all hoping for a speedy recovery in Japan.
-Mama Lisa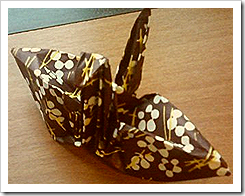 This article was posted on Friday, May 6th, 2011 at 10:30 am and is filed under Arts and Crafts, Countries & Cultures, Customs and Traditions, Japan, Origami, Symbols, Symbols of Peace, Symbols of Succor. You can follow any responses to this entry through the RSS 2.0 feed. You can leave a response, or trackback from your own site.
2 Responses to "Cranes – A Japanese Symbol of Peace and Succor"
Lisa Says:
May 6th, 2011 at 2:47 pm

Purabi wrote from Bangladesh:

In Bengali culture, the pigeon is said to be the symbol of peace. Here in BD in many national programs specially in sports pigeons are flown in wishing peace for all.

*****

In the US, the dove is a symbol of peace. -Mama Lisa

aya Says:
May 6th, 2011 at 4:34 pm

Yes, doves and pigeons are also the sign for peace… but i guess cranes symbolize our national bird ?? not sure, will research later.

google, 日本航空 , big airline company in japan… before it connected to our government..and you can see a red crane… on the wing!

thanks
Leave a Reply