How to Make Pumpkin Tart
November 26th, 2008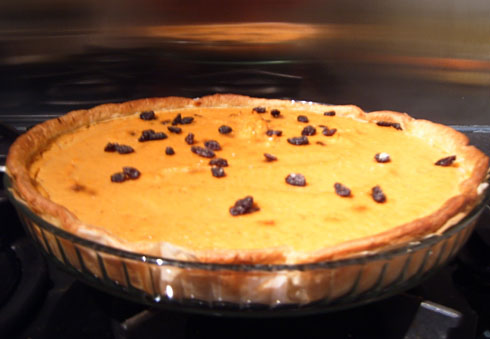 This recipe is from Monique from France. She gave two versions: one for a dinner tart, the other, a dessert tart.
Monique used a banana squash pumpkin in France.
In the US, I'd recommend using a small pie pumpkin for this recipe. (Or if you're tight for time you can use a can of plain pumpkin puree.)
First you have to cut, cook and peel the pumpkin to get it in a cooked pureed form.
You cut off the top of the pumpkin and then cut it in half vertically. Then you scoop out the seeds and pulp. (You can keep the seeds and bake them at a low temperature later to make roasted pumpkin seeds.)
Then you can cook it in a steamer on the stovetop until it's soft. Or you can cook it in the microwave in a covered dish in about two inches of water – until soft – about 15 to 30 minutes. (It's okay if you need to slice up the pumpkin a bit to fit into the pot.)
Once the pumpkin is soft, allow it to drain. Then you can peel it and puree it.
Add three eggs and ½ to 1 cup of a dairy product – Monique used Greek yogurt but you can use cream or milk (though milk makes the result more watery).
At this point, the recipe varies, depending upon whether you're making a dessert tart or a dinner tart. Here are instructions for both.
For a Dessert Tart: Add sugar to taste (or any sweetener that can resist heat), a large handful of raisins and powdered ginger, cinnamon or Chinese five-spice powder.
Monique lines a tart pan with a ready-to-use pie crust. Optionally, you can spread a couple of tablespoonfuls of prune or chestnut spread over the crust. Then she pours in the pumpkin mixture and bakes it for half an hour or so in a 400°F oven. Allow to cool.
For a Dinner Tart: Monique adds two cloves of crushed garlic, salt and pepper. She lines a tart pan with a layer of ready-for-use crust and pours in the pumpkin mixture. Then she sprinkles with Swiss cheese on top before baking. You can also make dinner tarts with butternut squash instead of pumpkin. Bake at 400°F for about 30 minutes.
Many thanks to Monique from Mama Lisa's World en français for sharing this recipe with us!
-Lisa
UPDATE: I made the dessert version of this tart the other day. I didn't use the prune or chestnut spread (since they're hard to find in the US). I did use canned pumpkin, milk, eggs, cinnamon, sugar and raisins, following the directions for the dessert tart above.
We liked it better chilled – it tasted a lot like a pumpkin pie – but thinner and subtler. -Lisa
This article was posted on Wednesday, November 26th, 2008 at 6:04 pm and is filed under Countries & Cultures, Desserts, English, France, Holidays Around the World, Main Course, Mama Lisa, Pumpkin Tart, Recipes of the World, Thanksgiving, United Kingdom, USA. You can follow any responses to this entry through the RSS 2.0 feed. You can skip to the end and leave a response. Pinging is currently not allowed.
Leave a Reply