How To Make Italian Anise Cookies
December 20th, 2012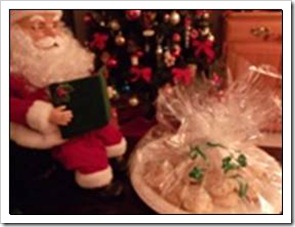 Maryann Serra was kind enough to contribute her recipe for Anise Cookies…
Anise cookies are a popular tradition for Italians and other families around the world, especially during the holidays. This light fluffy cookie tastes much like licorice cake, so people who like the flavor licorice especially enjoy them.
Making Italian anise cookies is fun and easier than you might think. My recipe below explains how to make these delicious cookies, appropriate for all occasions as well as the Christmas season.
Recipe for Italian Anise Cookies

Ingredients

¾ cup Sugar
1 stick (½ cup) Melted Butter
1 t. Anise Extract
2 ½ t. Baking Powder
2 Large Eggs
¼ cup Milk
2 ¾ cup Flour
¼ t. Salt

Ingredients for Glaze

1 cup Confectionary Sugar
1 t. Anise Extract
4 to 5 t. Milk

Sprinkles

Multi-colored Nonpareils

Now we're ready to begin:

1. Preheat the oven to 325 degrees Fahrenheit.

2. Beat the first five ingredients in a bowl until blended, Then add the next three ingredients and mix well.

3. Drop teaspoons of batter onto a greased cookie sheet. (They can be close together because these cookies do not spread out on the pan.)

4. Bake about 20 minutes until lightly golden brown. (Time might vary depending on your oven.)

5. Mix the ingredients together for your glaze. If it's too thick add a little more milk.

6. Let cool and then ice and sprinkle immediately with nonpareil sprinkles.

Makes 46 cookies.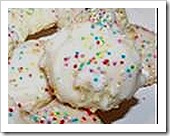 As you can see the completed product looks colorful, festive and appetizing.
These cookies are great both as gifts and snacks. You might give them to friends and teachers at school during the holiday season. You can also arrange your cookies nicely on a plate and serve them to your visitors with other homemade treats.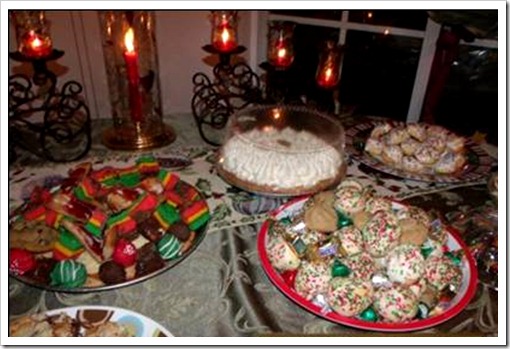 Anise cookies are nice for weddings, graduations, anniversaries, birthdays, christenings, communions, Christmas, Easter, and other celebratory occasions. Everyone appreciates home made gifts, and these are both tasty and decorative.
Maryann Serra is a graduate of Purchase College, and a recent graduate of the Institute of Children's Literature.   She spends most of her free time writing articles and stories for book and magazine publishers for children and teens. Maryann's getting her first book published soon. It's geared toward children 4-8 years old. It's a Halloween humorous rhyming picture book story called Monster's Halloween Challenge.  Wish her luck!
Thanks for sharing Maryann! -Mama Lisa
This article was posted on Thursday, December 20th, 2012 at 6:27 pm and is filed under Anniversaries, Christenings, Christmas, Christmas Cookies, Christmas Recipes, Cookies, Countries & Cultures, Desserts, Easter, Graduations, Holiday Recipes, Holidays Around the World, Italian, Italian American, Italian Anise Cookies, Italian Cuisine, Italy, Recipes of the World, USA, Weddings. You can follow any responses to this entry through the RSS 2.0 feed. You can skip to the end and leave a response. Pinging is currently not allowed.
One Response to "How To Make Italian Anise Cookies"
Lisa Says:
December 22nd, 2012 at 10:16 pm

Monique sent these measurement equivalents for the European way to measure:

¾ cup Sugar = 150g
1 stick (½ cup) Melted Butter =113g
1 t. Anise Extract
2 ½ t. Baking Powder
2 Large Eggs
¼ cup Milk =60ml
2 ¾ cup Flour = 360g
¼ t. Salt

Ingredients for Glaze

1 cup Confectionary Sugar = 130g
1 t. Anise Extract
4 to 5 t. Milk
Leave a Reply