Recipe for "Fancy Fruit" – A French Christmas Confectionary
December 19th, 2012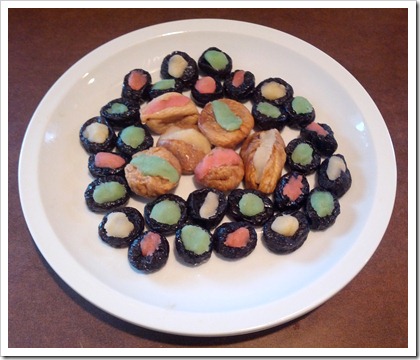 French "fruits déguisés" (fancy fruit) is eaten at Christmastime in France.  It's dried fruit, mainly dates, prunes or figs, stuffed with almond paste or a sweetened crumbled cookie mixture.  The filling is usually made in different pastel colors.  Almond paste is actually sold in different colors in France.  The normal colors you find at the supermarket are white, green and pink.
This recipe is for the sweetened cookie method. According to Monique in France, "It's a cheaper substitute that anybody could make.  Before supermarkets existed, you couldn't easily find almond paste in local, small stores." In the recipe below, I also explain how to make this with almond paste.
Recipe for "Fruits Déguisés" (Fancy Fruit)
Ingredients:
250 g. (about 7 oz.) Ladyfingers
200 g. (about 1 3/4 sticks) Softened Butter
200 g. (about 1 1/2 cups) Powdered Sugar
2 Egg Yolks
2 T. Rum (optional)
Food Coloring (optional)
Dried Prunes or Dates

1. Grind up the ladyfingers in a food processor.
2. Mix together all the ingredients (except the dried fruit and the food coloring).
3.   If you use food coloring you can make the mixture all one color or separate the mixture into 2 or 3 bowls to make different colors.  You should make the mixture in pastel colors if you want to follow the French tradition.
4.  Let sit in the fridge.
5.  Meanwhile, slice the dates, figs or prunes in the middle of one side so that you can open them (sort of like opening a book but don't cut open the ends). If there are pits in the fruit you can take them out now.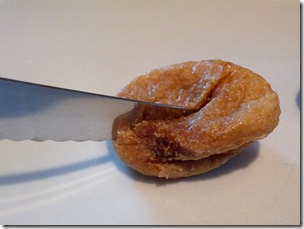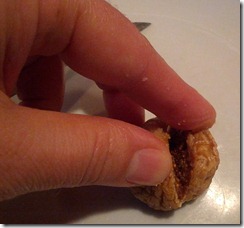 6.  Then take some of the mixture in your hands and shape it to fit inside the fruit. Fill the pitted dates, figs or prunes with some of the mixture with your fingers.  You can put a little almond paste on top if desired.  (The other choice is to fill the fruit with just almond paste.)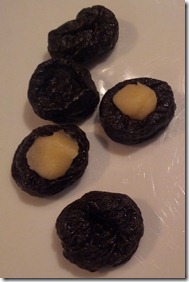 7.  Store in the fridge.
Alternative to Fruit: You can also take a little paste and press it between two walnut halves.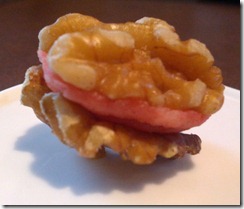 Note: I made the fancy fruit in the photos above using store-bought almond paste.  I added just a drop of food coloring to get the pastel pink and the pastel green colors.  You can mix the food coloring in with a spoon at first, but then knead it in by hand to get a consistent color. 
Monique Palomares sent me this recipe from France.  She works with me on the French version of Mama Lisa's World.  Thanks for sharing Monique!
This article was posted on Wednesday, December 19th, 2012 at 5:42 pm and is filed under Candy, Christmas, Christmas Recipes, Countries & Cultures, Cuisine, Desserts, France, French, French Cuisine, Fruit Deguises (French Fancy Fruit), Holiday Recipes, Holidays Around the World, Languages, Recipes of the World. You can follow any responses to this entry through the RSS 2.0 feed. You can skip to the end and leave a response. Pinging is currently not allowed.
Leave a Reply