Homemade Cranberry Sauce Recipe
November 29th, 2009
This year I made my own homemade Cranberry Sauce, thanks to a recipe given to me by my friend Judy. It came out really good and I plan to add this to my Thanksgiving fare every year.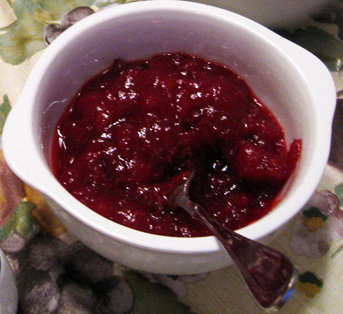 The recipe is easy to make! You can adjust the honey and lemon juice ratio to suit your taste.
Recipe for Whole Berry Cranberry Sauce

12 ounces Cranberries
1 cup Water
1/2 cup Sugar
2 Tablespoons Honey
2 Tablespoons Lemon Juice

1. Rinse off cranberries to clean.
2. Bring water and sugar to a boil in a saucepan.
3. Add cranberries and bring mixture back to a boil. Then lower so that it's only gently boiling for about 10 – 15 minutes. Stir occasionally.
4. Remove from heat. Add the honey and lemon juice and stir.
5. Let cool and refrigerate.
I made it the day before and it was perfect in time for the holiday. I added a little more honey and sugar because my cranberries were very tart. That made it delicioso!
Many thanks to Judy for sharing this great recipe with me!
Enjoy!
Mama Lisa
One Response to "Homemade Cranberry Sauce Recipe"
Natalie Says:
July 12th, 2010 at 2:00 am

What a great idea. I never would have thought of making my own cranberry sauce but I am going to give it a go for this years holidays.
Leave a Reply