Gulliver's Travels for Children, with Recordings
September 20th, 2011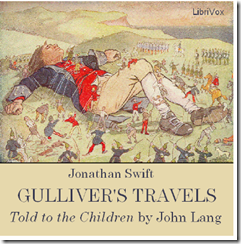 A version of Gulliver's Travels for kids from 1910 was just released in mp3 audio recordings on Librivox. 
The recordings are of a book called Gulliver's Travels Told to the Children by John Lang.
Check out the blog post below to read about a project you can do with students relating to this book… 
This article was posted on Tuesday, September 20th, 2011 at 9:30 am and is filed under Authors, Books & Stories, Countries & Cultures, England, English, Gulliver's Travels, Languages, Recordings, Recordings of Books. You can follow any responses to this entry through the RSS 2.0 feed. You can skip to the end and leave a response. Pinging is currently not allowed.
Leave a Reply