Great Dolls for Girls – Me Dolls and American Girl Dolls
January 9th, 2008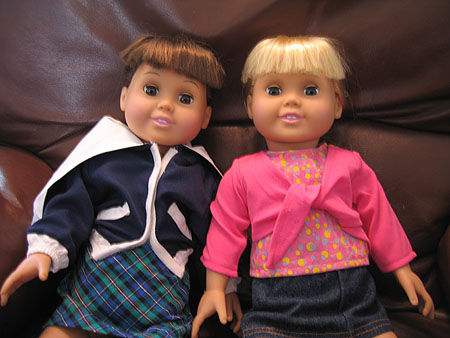 The American craft store Michaels has wonderful dolls that are similar to American Girl dolls. American Girl Dolls are very popular dolls in the United States. The girl who gets one is supposed to have a doll that looks just like her. The problem is that American Girl Dolls cost $90.00 (they come with a book and cd). Extra clothes cost about $28.00. Most of the kids I know who have them keep them in their closets. (To be fair, my daughter's only 6. The dolls may be meant for older kids who would keep them nice and neat and clean in their bedrooms.) It's a lot of money to spend on a doll to have it out in the real world getting all messy. Yet in my mind, a doll should be out in the world with your kid. So when my daughter got this similar doll from Michaels for her birthday, that I knew cost much less, I was very happy. I knew she could play with it as much as she wanted and I wouldn't have to worry about it.
The doll from Michaels costs a little over $16. Then you have to buy it at least one outfit, since it comes unclothed. The outfits cost about $8. The shoes are about $3.
We call the doll from Michaels a "Me" Doll – though they officially call them The Springfield Girls. Most of the girls in the neighborhood think it's an American Girl Doll – though I'm told that you can tell that the hair isn't as nice. But for about $27 you can get a girl a nice gift that she can play with – without your worrying about a $90 toy getting ruined.
Michaels has about 5 variations or so, but if you or one of your relatives feel like splurging on an American Girl doll, there are many more dolls to chose from. They have over 30 different dolls in their line. Some are interesting "historical" dolls that come with a story about them. One doll called Addy is supposed to be from 1864 and was a slave who escaped to freedom. Kirsten is a doll who's supposed to be an immigrant to the US in the 1850's. There's a series of books you can buy to read about her experience.
Lastly, you can visit one of the American Girl stores – there are 5 of them in major US cities. They're not just stores to buy products. You can have your doll's hair "done". You can have a tea party with your doll, see a musical (no kidding!) or eat dinner! It's probably a good idea to make reservations first.
For now, my daughter and I will stick to playing with her dolls from Michaels!
-Mama Lisa
UPDATE: Ed Gawlinski wrote to me about the benefits of American Girl Dolls which I posted in a later entry called Can American Girl Dolls and Their Books Be a Good Role Model? You can get yet another point of view by reading One More Word about American Girl Dolls. Feel free to join the discussion in the comments below or on one of the later blog posts. -Lisa
This article was posted on Wednesday, January 9th, 2008 at 7:20 pm and is filed under American Girl Dolls, Countries & Cultures, Dolls, Gift Ideas, Mama Lisa, Me Dolls, Parenting, Recommendations, Toys, USA. You can follow any responses to this entry through the RSS 2.0 feed. You can skip to the end and leave a response. Pinging is currently not allowed.
7 Responses to "Great Dolls for Girls – Me Dolls and American Girl Dolls"
Leave a Reply