Good Morning, Merry Sunshine Song with a Recording
March 14th, 2012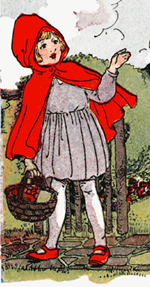 Here's a pretty little song called Good Morning, Merry Sunshine from a Librivox rendition of Little Red Riding Hood…
MP3 Recording of Good Morning, Merry Sunshine

Good Morning, Merry Sunshine

Good morning, merry sunshine,

How did you come so soon?

You chase the little stars away

And shine away the moon.

I saw you go to sleep last night

Before I ceased my playing.

How did you get 'way over there,

And where have you been staying?
*****

Sung by Miss Avarice.
This article was posted on Wednesday, March 14th, 2012 at 7:13 pm and is filed under American Kids Songs, Books & Stories, Children's Songs, Countries & Cultures, England, English, English Children's Songs, Fairy Tales, Languages, Little Red Riding Hood, MP3's, Recordings, Recordings of Songs, USA. You can follow any responses to this entry through the RSS 2.0 feed. You can skip to the end and leave a response. Pinging is currently not allowed.
2 Responses to "Good Morning, Merry Sunshine Song with a Recording"
Paula Meyer Says:
March 6th, 2015 at 4:22 pm

I'm 69 yrs old and was taught this rhyme a little differently by my grandmother
Who helped raise me. She was born in January, 1900 and told this rhyme pretty
Much every day of my life growing up. Of course, it can be no different for me…ever!

Good morning, Merry Sunshine! How do you wake so soon?
You've frightened all the stars away and shined away the moon.
I saw you go to sleep last night, before I stopped my playing.
How did you get way over there and where have you been staying?

I never go to sleep, Dear Child, I just go round to see
The little children of the East who rise and watch for me.
I waken all the birds and trees and flowers on my way
And then, come back to see the child who stayed out late to play.

Amy Says:
November 20th, 2020 at 12:49 pm

Good morning Merry Sunshine, how do you feel today? You wake up all the birds and bees and send them on their way!

My grandmother sang every morning to my mother who sang to us!
Leave a Reply